Citral
Also found in:
Dictionary
,
Medical
,
Wikipedia
.
citral
[

′si'tral

]

(organic chemistry)

C10H16O A pale-yellow liquid that in commerce is a mixture of two isomeric forms, alpha and beta; insoluble in water, soluble in glycerin or benzyl benzoate; used in perfumery and as an intermediate to form other compounds. Also known as geranial; geranialdehyde.

McGraw-Hill Dictionary of Scientific & Technical Terms, 6E, Copyright © 2003 by The McGraw-Hill Companies, Inc.
The following article is from The Great Soviet Encyclopedia (1979). It might be outdated or ideologically biased.
Citral
(also 3,7-dimethyl-2,6-octadienal), a terpene aldehyde. Citral is a light yellow liquid with the structural formula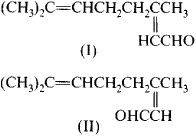 It has a strong lemon-like odor. Citral is insoluble in water but soluble in alcohol and ether. It has a boiling point of 228°–229°C and a density of 0.887 g/cm3 at 20°C.
Citral consists of a mixture of two stereoisomeric forms: the trans form α-citral (I), or geranial, and the cis form β-citral (II), or neral. A component of many essential oils, it is separated industrially from these oils—especially from lemongrass oil, which contains up to 80 percent citral. It is also synthesized from such compounds as isoprene, acetylene, and acetone.
Citral is used as an ingredient of flavorings, perfumes, and drugs. It is also used as a raw material in the production of vitamin A and many valuable odoriferous substances, including citronellol, ionone, methylionone, iralia, and hydroxycitronellal.
The Great Soviet Encyclopedia, 3rd Edition (1970-1979). © 2010 The Gale Group, Inc. All rights reserved.