clamp
(redirected from clamp down)
Also found in:
Dictionary
,
Thesaurus
,
Medical
,
Idioms
.
clamp
1. a mechanical device with movable jaws with which an object can be secured to a bench or with which two objects may be secured together
2. Nautical a horizontal beam fastened to the ribs for supporting the deck beams in a wooden vessel
Collins Discovery Encyclopedia, 1st edition © HarperCollins Publishers 2005
The following article is from The Great Soviet Encyclopedia (1979). It might be outdated or ideologically biased.
Clamp
the simplest type of storage facility for agricultural products. It consists of a banked-up heap of potatoes, root crops, or cabbage, placed on the surface of the ground or in a shallow trench (0.2-0.5 m deep) and covered with layers of straw (sawdust, peat, and so forth) and earth. Clamps are placed on elevated sites with slanting sides, protected from the predominant winter winds and with deep-lying subsoil waters. The dimensions of a clamp and the thickness of its cover depend on what is to be stored and the climatic conditions of the area. In the central zone of the European part of the USSR clamps are usually 2-2.2 m wide and 1.0-1.2 m high and are covered by a layer of straw that is 0.5 m thick at the base and 0.35 m thick at the crown. The layer of earth is 0.6 m thick at the base and 0.5 m at the crown. The total thickness of the cover must be equal to or a little greater than the average depth at which the soil freezes in the area. Clamp coverers, excavators, and other machines are used to mechanize the covering operation. The temperature inside the clamp is regulated by means of ventilation or by changing the thickness of the cover.
REFERENCE
Shirokov, E., and Yu. Volosov. Khranilishcha dlia kartofeliia i ovoshchei. Moscow, 1963.
The Great Soviet Encyclopedia, 3rd Edition (1970-1979). © 2010 The Gale Group, Inc. All rights reserved.
clamp
[

klamp

]

(design engineering)

A tool for binding or pressing two or more parts together, by holding them firmly in their relative positions.

(electronics)

McGraw-Hill Dictionary of Scientific & Technical Terms, 6E, Copyright © 2003 by The McGraw-Hill Companies, Inc.
clamp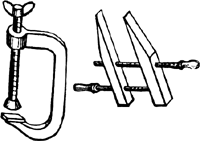 A wood and/or metal device designed to hold components firmly, esp. during gluing, machining, soldering, welding, etc.
McGraw-Hill Dictionary of Architecture and Construction. Copyright © 2003 by McGraw-Hill Companies, Inc.