clinometer
Also found in:
Dictionary
,
Thesaurus
,
Medical
,
Wikipedia
.
clinometer
[

klə′näm·əd·ər

]

(engineering)

A hand-held surveying device for measuring vertical angles; consists of a sighting tube surmounted by a graduated vertical arc with an attached level bubble; used in meteorology to measure cloud height at night, in conjunction with a ceiling light, and in ordnance for boresighting. Also known as Abney level.

A device for measuring the amount of roll aboard ship.
Clinometer
a very simple geodetic instrument that is used to measure the slope angles of a terrain. A typical clinometer (see Figure 1) consists of a circular metal casing (1) and a sighting tube (2) that is fastened to the casing. The casing contains a graduated disk (3) on a spindle; attached to the disk is a weight that hangs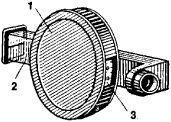 plumb, keeping the disk in a constant position. Other forms of clinometers are also available. The precision with which slope angles are determined by means of a clinometer does not exceed 0°.2.
clinometer
An instrument for measuring vertical angles.