coaming
Also found in:
Dictionary
,
Thesaurus
,
Wikipedia
.
coaming
Nautical a raised frame around the cockpit or hatchway of a vessel for keeping out water
Coaming
(1) A raised frame along the perimeter of an opening in the deck of a vessel (such as a cargo hatch, an entrance hatchway, or ventilating holes). On steel vessels, large hatch coamings are made in the form of rib-reinforced sheets or box sections. The height and sturdiness of coamings on the upper decks of oceangoing ships are regulated by registry rules.
(2) A door threshold on a vessel.
coaming
[

′kōm·iŋ

]

(naval architecture)

A rim placed on a roof or around a hatch, deck, or bulkhead opening to stop water from entering.
coaming
A frame or curb around an opening in a roof or floor, raised above the surrounding level to prevent the flow of water into the opening.
coaming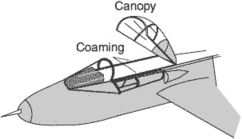 The edge of an open-cockpit aperture.