coaxial cable
Also found in:
Dictionary
,
Thesaurus
,
Medical
,
Financial
,
Acronyms
,
Wikipedia
.
cable
cable, originally wire cordage of great strength or heavy metal chain used for hauling, towing, supporting the roadway of a suspension bridge, or securing a large ship to its anchor or mooring. Today a cable often refers to a line used for the transmission of electrical signals. One type of electric cable consists of a core protected by twisted wire strands and suitably insulated, especially when it is used to cross oceans undersea; a message transmitted by cable is known as a cablegram or cable. France and England were first successfully connected by submarine telegraphic cable in 1845. The first permanent transatlantic cable was laid in 1866 by Cyrus West Field, although demonstrations of its possibility had been made in 1858. The first telephone message was transmitted from New York to Philadelphia in 1936; the first transatlantic telephone cable was laid in 1956. Fiber-optic cable began to be replace earlier forms of undersea cable in the 1980s. The importance of undersea cable has grown enormously with the development of the Internet, and more than 700,000 mi (1.1 million km) of undersea cable is now in use.
The coaxial cable, which is virtually immune to external interference, consists of two concentric conductors separated by an insulator; the current in the inner conductor draws the current in the outer conductor toward the center rather than letting it dissipate outwards. Because they can carry a large number of signals simultaneously, coaxial cables are also used in cable television systems. The newest form of cable is the fiber-optic cable, developed in the 1970s. Instead of a copper conductor, a silica glass fiber carries digitized signals as pulses of light.
The insulated wire that conducts electricity from generator to consumer is also called a cable; it often contains multiple conductors and must be of sufficient gauge to carry large currents. Its insulation must withstand high voltages.
The Columbia Electronic Encyclopedia™ Copyright © 2022, Columbia University Press. Licensed from Columbia University Press. All rights reserved.
Coaxial cable
A round, flexible, two-conductor cable that consists of a copper wire at the center, a layer of protective insulation, a braided mesh sleeve, and an outer shield or jacket.
Illustrated Dictionary of Architecture Copyright © 2012, 2002, 1998 by The McGraw-Hill Companies, Inc. All rights reserved
The following article is from The Great Soviet Encyclopedia (1979). It might be outdated or ideologically biased.
Coaxial Cable
a cable in which the wires that constitute the circuit are two coaxial cylinders. Coaxial cables are used for transmitting electric signals over telecommunications lines, as antenna feeders for radio, electronic and television apparatus, and as connections between units of radio apparatus.
The electromagnetic field of a coaxial cable is concentrated in the space between the conductors—that is, there is no external field, and thus there are virtually no radiation losses into the space surrounding the cable. The outer wire also functions as an electromagnetic screen, protecting the electric circuit from outside influences. Therefore, coaxial cables exhibit a high degree of noise immunity. Energy losses of transmitted signals are comparatively low.
Coaxial communications cables are characterized by the diameter of the inner and outer wires, which are usually given in the model number—for example, KPK-5/18 (coaxial submarine cable with an inner wire 5 mm in diameter and an outer wire 18 mm in diameter). Radio-frequency cables of coaxial design are marked differently; their model numbers reflect only the inside diameter of the outer wire.
The Great Soviet Encyclopedia, 3rd Edition (1970-1979). © 2010 The Gale Group, Inc. All rights reserved.
coaxial cable
[

kō′ak·sē·əl ′kā·bəl

]

(electromagnetism)

A transmission line in which one conductor is centered inside and insulated from an outer metal tube that serves as the second conductor. Also known as coax; coaxial line; coaxial transmission line; concentric cable; concentric line; concentric transmission line.

McGraw-Hill Dictionary of Scientific & Technical Terms, 6E, Copyright © 2003 by The McGraw-Hill Companies, Inc.
Coaxial cable
An electrical transmission line comprising an inner, central conductor surrounded by a tubular outer conductor. The two conductors are separated by an electrically insulating medium which supports the inner conductor and keeps it concentric with the outer conductor. One version of coaxial cable has periodically spaced polyethylene disks supporting the inner conductor. This coaxial is a building block of multicoaxial cables used in L-carrier systems (see illustration).
The symmetry of the coaxial cable and the fact that the outer conductor surrounds the inner conductor make it a shielded structure. At high frequencies, signal currents concentrate near the inside surface of the outer conductor and the outer surface of the inner conductor. This is called skin effect. The depth to which currents penetrate decreases with increasing frequency. Decreased skin depth improves the cable's self-shielding and increases transmission loss. This loss (expressed in decibels per kilometer) increases approximately as the square root of frequency because of the skin effect.
Coaxial cables can carry high power without radiating significant electromagnetic energy. In other applications, coaxial cables carry very weak signals and are largely immune to interference from external electromagnetic fields.
A coaxial cable's self-shielding property is vital to successful use in broadband carrier systems, undersea cable systems, radio and TV antenna feeders, and community antenna television (CATV) applications.
Coaxial units are designed for different mechanical behavior depending upon the application. Widely used coaxials are classified as flexible or semirigid.
McGraw-Hill Concise Encyclopedia of Engineering. © 2002 by The McGraw-Hill Companies, Inc.
coaxial cable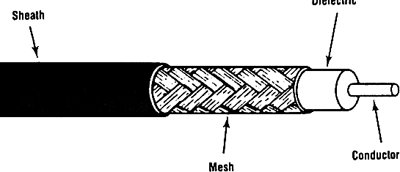 1.A cable consisting of two concentric conductors (an inner conductor and an outer conductor) insulated from each other by a dielectric; commonly used for the transmission of high-speed electronic data and/or video signals.
2. A single transmission cable having a concentric conductor and shielding; used for communications transmission, such as for television signals.
McGraw-Hill Dictionary of Architecture and Construction. Copyright © 2003 by McGraw-Hill Companies, Inc.
coaxial cable
(hardware)

A kind of cable with a solid central conductor surrounded by insulator, in turn surrounded by a cylindrical shield woven from fine wires. It is used to carry high frequency signals such as

video

or

radio

. The shield is usually connected to electrical ground to reduce electrical interference.

This article is provided by FOLDOC - Free Online Dictionary of Computing (foldoc.org)
coaxial cable
A strong, flexible, high-capacity cable widely used in audio, video and data applications. Commonly called "coax" (pronounced "co-axe"), the cable comprises a solid or stranded wire in the center, surrounded by insulation. The insulation is wrapped with a metallic foil or braided wire that serves as the ground line and interference shield. All of this is enclosed in a plastic cover, which may have a fire-safe Teflon coating.

There Are Many Types
Typically with impedances of 50 or 75 Ohms, cables have different outside diameters and maximum capacities for operating voltage. Designated with an RG (radio grade) prefix such as RG-6, cables are also rated for signal loss (attenuation in dBs per 100 feet). Following are common types; however, there are many more in use. See RCA connector and F connector.


        Impedance  Core   Layers        Range in   Dia.     inType         Ohms     (mm)   Sheath

  RG-6        75-76     1.0      2
  RG-6 Quad   75-76     1.0      4

  RG-58       50-53.5   0.9      1

  RG-59       73-75     0.81     1
  RG-59 Quad  73-75     0.81     4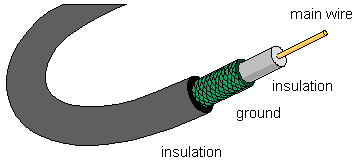 Coaxial Cable
Coax uses two wires. The inner wire is the primary conductor. The ground wire is an aluminum or copper sheath that surrounds the insulation of the primary conductor and also serves as a shield against external interference.
Copyright © 1981-2019 by The Computer Language Company Inc. All Rights reserved. THIS DEFINITION IS FOR PERSONAL USE ONLY. All other reproduction is strictly prohibited without permission from the publisher.