cob
(redirected from cobnuts)
Also found in:
Dictionary
,
Thesaurus
,
Medical
.
cob
1
1. a male swan
2. a thickset short-legged type of riding and draught horse
---
cob
2, cobb

an archaic or dialect name for a

gull

esp the greater black-backed gull (

Larus marinus

)
cob
[

käb

]

(mining engineering)

To chip away waste material from an ore, using hand hammers.
cob
A mixture of straw, gravel, and unburnt clay; used esp. for walls.
chip on board
A bare chip that is mounted directly onto the printed circuit board (PCB). After the wires are attached, a glob of epoxy or plastic is used to cover the chip and its connections. The tape automated bonding (TAB) process is used to place the chip on the board. See tape automated bonding.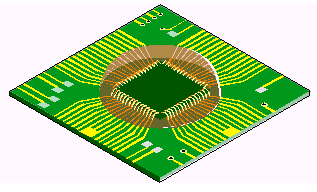 Chip On Board
The bare chip is adhered and wire bonded to the board, and an epoxy is poured over it to insulate and protect it. For illustrative purposes only, this picture shows a clear epoxy. (Image courtesy of Joseph Fjelstad.)

Side View
This side view shows how the wires connect the chip to the printed circuit board (PCB). (Image courtesy of Joseph Fjelstad.)