cockpit
Also found in:
Dictionary
,
Thesaurus
,
Acronyms
,
Wikipedia
.
cockpit
1. the compartment in a small aircraft in which the pilot, crew, and sometimes the passengers sit
2. the driver's compartment in a racing car
3.
Nautical
a. an enclosed or recessed area towards the stern of a small vessel from which it is steered
b. (formerly) an apartment in a warship used as quarters for junior officers and as a first-aid station during combat
4. an enclosure used for cockfights
Collins Discovery Encyclopedia, 1st edition © HarperCollins Publishers 2005
cockpit
[

′käk'pit

]

(aerospace engineering)

A space in an aircraft or spacecraft where the pilot sits.

(naval architecture)

A sunken area on the deck of a small vessel, near the stern, from which the craft is steered.

McGraw-Hill Dictionary of Scientific & Technical Terms, 6E, Copyright © 2003 by The McGraw-Hill Companies, Inc.
cockpit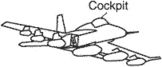 That portion of a fuselage or nacelle designed to accommodate the pilot and the crew of an airplane and equipped with all the controls and instruments needed for flying the airplane. An observer's cockpit has instruments but no controls.
An Illustrated Dictionary of Aviation Copyright © 2005 by The McGraw-Hill Companies, Inc. All rights reserved