Foil
(redirected from cohesive gold foil)
Also found in:
Dictionary
,
Thesaurus
,
Medical
.
foil
1
Hunting any scent that obscures the trail left by a hunted animal
---
foil
2
1. metal in the form of very thin sheets
2. the thin metallic sheet forming the backing of a mirror
3. Architect a small arc between cusps, esp as used in Gothic window tracery
Collins Discovery Encyclopedia, 1st edition © HarperCollins Publishers 2005
The following article is from The Great Soviet Encyclopedia (1979). It might be outdated or ideologically biased.
Foil
a fencing weapon used in sport that consists of a flexible steel blade and a handle, which has a grip and a protective cuplike guard. The blade has a variable rectangular cross section that tapers toward the tip, where a point measuring 6 mm in diameter is affixed. The overall length of the foil does not exceed 110 cm, and the length of the blade does not exceed 90 cm. The total weight does not exceed 500 g. Ordinary (training) foils have a fixed point. In electrified foils, used in official fencing competitions since 1954, an electronic contact device is attached to the blade.
---
Foil
a metal sheet from 5 to 1,000 mm wide and from 0.001 to 0.2 mm thick, made from nonferrous, rare, and noble metals and steel. The traditional method of producing foils with thicknesses greater than 0.02 mm is by rolling and transverse stretching on machines with four, six or 12 rollers; thinner foils, with thicknesses from 0.0045 to 0.01 mm, are manufactured by rolling two sheets together and subsequently parting the two. In producing foils of minimum thickness from materials that have poor formability and therefore are difficult or impossible to roll, molten metal is evaporated in a vacuum and the vapor is condensed and deposited on a special backing, which is subsequently removed. The technique is also used to produce bimetallic foils and foils with multiple layers of different metals or alloys.
Aluminum foil is the most common type of foil; it is produced in many varieties: smooth, embossed, uncoated, anodized, etched, varnished, and colored. Some foils are bonded to paper, film, or fabric backings to provide improved wear characteristics and to conserve metal. Foils are used for capacitor linings, radio tube plates, cable shielding, radio equipment, resistance sensors, printing plates, and honeycomb fillers for aircraft sound-absorption components. They are also used for packaging food, tobacco, perfume, and chemical products.
REFERENCE
Cherniak, S. N., V. I. Karasevich, and P. A. Kovalenko. Proizvodstvofol'gi, 2nd ed. Moscow, 1968.
---
Foil
in printing, a rolled, laminated material used for embossing, consisting of a paper or Lavsan base with wax, pigment (or metal), and adhesive layers. In embossing, the high temperature of the stamp melts the wax at the image sites, and the exposed pigment layer on the base is applied under pressure to the subject material. Aluminum foil is used in making printing plates and in Multilith operations; prior to the mid-1950's, brass and gold foils were used for embossing book covers.
The Great Soviet Encyclopedia, 3rd Edition (1970-1979). © 2010 The Gale Group, Inc. All rights reserved.
foil
[

fȯil

]

(metallurgy)

A thin sheet of metal, usually less than 0.006 inch (0.15 millimeter) thick.

McGraw-Hill Dictionary of Scientific & Technical Terms, 6E, Copyright © 2003 by The McGraw-Hill Companies, Inc.
foil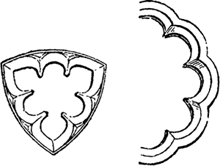 1.
In tracery, any of several rounded lobes that meet each other in points called
cusps
; widely used in Gothic architecture, Gothic Revival architecture, and Collegiate Gothic; see
trefoil
(three lobes),
quatrefoil
(four lobes),
cinquefoil
(five lobes), and
multifoil
(usually greater than five lobes).
2. A metallic substance formed into very thin sheets, usually by a rolling process.
McGraw-Hill Dictionary of Architecture and Construction. Copyright © 2003 by McGraw-Hill Companies, Inc.
FOIL
File Oriented Interpretive Language. CAI language.

["FOIL - A File Oriented Interpretive Language", J.C. Hesselbart, Proc ACM 23rd National Conf (1968)].
This article is provided by FOLDOC - Free Online Dictionary of Computing (foldoc.org)