col
Also found in:
Dictionary
,
Thesaurus
,
Medical
,
Legal
,
Financial
,
Acronyms
,
Wikipedia
.
col
1. Geography the lowest point of a ridge connecting two mountain peaks, often constituting a pass
2. Meteorol a pressure region between two anticyclones and two depressions, associated with variable weather
col
[

käl

]

(geology)

A high, sharp-edged pass occurring in a mountain ridge, usually produced by the headward erosion of opposing cirques.

(meteorology)

The point of intersection of a trough and a ridge in the pressure pattern of a weather map; it is the point of relatively lowest pressure between two highs and the point of relatively highest pressure between two lows. Also known as neutral point; saddle point.
---
Col
(astronomy)
col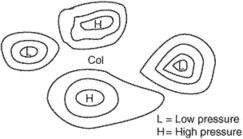 An area of almost uniform pressure between two highs and two lows. No isobars define its boundary. The two isobars on two low-pressure sides have the same value. However, isobars on anticyclonic sides have equal value but at one interval higher. Also referred to as
saddleback shape
.