Coliseum
(redirected from coliseums)
Also found in:
Dictionary
,
Thesaurus
.
Colosseum
Colosseum
or
Coliseum
(both: kŏləsēˈəm)
, Ital.
Colosseo,
common name of the Flavian Amphitheater in Rome, near the southeast end of the Forum, between the Palatine and Esquiline hills. Begun by Vespasian, c.A.D. 75, and completed by his son Titus in A.D. 80, it is the most imposing of Roman antiquities. The vast four-storied oval is 617 ft (188 m) by 512 ft (156 m), much of which is still standing; it had tier on tier of marble seats accommodating c.45,000 spectators. It encloses an arena measuring 250 ft (76 m) by 151 ft (46 m) where gladiatorial combats were held (see
gladiators
) until 404. According to tradition, persecuted Christians were thrown there to beasts. The Colosseum has been damaged several times by earthquakes.
Bibliography
See J. Pearson, Arena: The Story of the Colosseum (1974).
The Columbia Electronic Encyclopedia™ Copyright © 2022, Columbia University Press. Licensed from Columbia University Press. All rights reserved.
Coliseum
Any large amphitheater; any large sports arena, open or roofed.

Illustrated Dictionary of Architecture Copyright © 2012, 2002, 1998 by The McGraw-Hill Companies, Inc. All rights reserved
colosseum, coliseum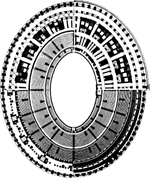 1.
(
cap.
) The Flavian amphitheater in Rome.
2. Any large Roman amphitheater.
3. Now, any large sports arena, open or roofed.
McGraw-Hill Dictionary of Architecture and Construction. Copyright © 2003 by McGraw-Hill Companies, Inc.