collage
(redirected from collagists)
Also found in:
Dictionary
,
Thesaurus
.
collage
(kəläzh`, kō–)

[Fr.,=pasting], technique in art consisting of cutting and pasting natural or manufactured materials to a painted or unpainted surface—hence, a work of art in this medium. The art of collage was initiated in 1912 when Picasso pasted a section of commercially printed oilcloth to his cubist painting, Still Life with Chair Caning (Mus. of Modern Art, New York City). Collage elements appear in works by Gris, Braque, Malevich, Dove, and the futurist artists. A basic means of Dada and surrealist art, it was used by Arp, Schwitters, and Ernst. Collage is related to the newer art of assemblage, in which the traditional painted canvas has been abandoned in favor of the assembling of bits of material, which are sometimes additionally painted or carved.
Bibliography
See studies by H. Janis and R. Blesh (rev. ed. 1967), H. Wescher (1968, tr. 1971), N. Laliberté (1972), G. F. Brommer (1978), B. French (1978), and John and Joan Digby (1987).
The Columbia Electronic Encyclopedia™ Copyright © 2013, Columbia University Press. Licensed from Columbia University Press. All rights reserved.
www.cc.columbia.edu/cu/cup/
collage
An artistic composition of often diverse materials and objects in unlikely or unexpected juxtaposition, which are pasted over a surface; often with unifying lines and color.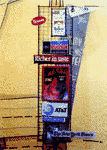 See also: Design drawing

Illustrated Dictionary of Architecture Copyright © 2012, 2002, 1998 by The McGraw-Hill Companies, Inc. All rights reserved
The following article is from The Great Soviet Encyclopedia (1979). It might be outdated or ideologically biased.
Collage
in the fine arts, a technique involving the pasting of materials onto a surface from which they differ in color and texture. A work executed entirely by this method is also a collage. The technique is used primarily in the graphic arts to increase the emotional impact of the work's texture and of unusual combinations of various materials. Cubists, futurists, and dadaists introduced collage as a formal experiment; they affixed pieces of fabrics, chips of wood, and bits of newspaper, photographs, and wallpaper to the canvas.
REFERENCE
Wescher, H. Die Collage: Geschichte eines künstlerischen Ausdrucksmittels. Cologne [1968.]
The Great Soviet Encyclopedia, 3rd Edition (1970-1979). © 2010 The Gale Group, Inc. All rights reserved.
collage
[

kə′läzh

]

(graphic arts)

A composition consisting of paper, cloth, wood, photographs, and so on, pasted together to form a texture or pattern.

McGraw-Hill Dictionary of Scientific & Technical Terms, 6E, Copyright © 2003 by The McGraw-Hill Companies, Inc.
collage
1. an art form in which compositions are made out of pieces of paper, cloth, photographs, and other miscellaneous objects, juxtaposed and pasted on a dry ground
2. any work, such as a piece of music, created by combining unrelated styles
Collins Discovery Encyclopedia, 1st edition © HarperCollins Publishers 2005