comment
Also found in:
Dictionary
,
Thesaurus
,
Legal
,
Acronyms
,
Idioms
,
Wikipedia
.
comment
[

′käm'ent

]

(computer science)

An expression identifying or explaining one or more steps in a routine, which has no effect on execution of the routine.

McGraw-Hill Dictionary of Scientific & Technical Terms, 6E, Copyright © 2003 by The McGraw-Hill Companies, Inc.
comment
(programming)

(Or "remark") Explanatory text embedded in program

source

(or less often data) intended to help human readers understand it.

Code completely without comments is often hard to read, but code with too many comments is also bad, especially if the comments are not kept up-to-date with changes to the code. Too much commenting may mean that the code is over-complicated. A good rule is to comment everything that needs it but write code that doesn't need much of it. Comments that explain __why__ something is done and how the code relates to its environment are useful.

A particularly irksome form of over-commenting explains exactly what each statement does, even when it is obvious to any reasonably competant programmer, e.g.

/* Open the input file */ infd = open(input_file, O_RDONLY);

This article is provided by FOLDOC - Free Online Dictionary of Computing (foldoc.org)
comments
Lines of documentation in program source code and batch file scripts. Comments, also called "remarks," are words or symbols that identify a line or a group of lines as text that is not to be compiled or executed.

Comment Quality
The bottom line is that most programmers hate to document, and the quality of the documentation ranges from the ridiculous to the sublime (rarely sublime). The quality of the comments goes a long way in determining the ease with which a program can be changed, not only by other programmers, but also by the original programmer. See obfuscator and comment out.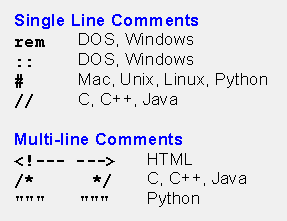 Sample Codes for Comments/Remarks
When several lines of comments are used, the start and stop symbols for multi-line comments eliminate having to enter a code on each line.
Copyright © 1981-2019 by The Computer Language Company Inc. All Rights reserved. THIS DEFINITION IS FOR PERSONAL USE ONLY. All other reproduction is strictly prohibited without permission from the publisher.