compass correction card
compass correction card
[

′käm·pəs kə′rek·shən 'kärd

]

(navigation)

A card posted in a holder near the magnetic compass, on which there is recorded the difference between the readings of the compass and the correct geomagnetic directions; these errors (deviations) are given for at least the four cardinal points; sometimes the card lists the compass bearings to be flown when it is desired to fly corresponding magnetic headings.

McGraw-Hill Dictionary of Scientific & Technical Terms, 6E, Copyright © 2003 by The McGraw-Hill Companies, Inc.
compass correction card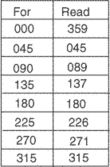 A small card placed in the cockpit to show the compass deviation for each heading. The card reads the courses to be steered in lieu of the required headings. Also called a
deviation card
.
An Illustrated Dictionary of Aviation Copyright © 2005 by The McGraw-Hill Companies, Inc. All rights reserved