compass locator
Also found in:
Acronyms
.
compass locator
[

′käm·pəs 'lō'kād·ər

]

(navigation)

A low-power, low-frequency, nondirectional radio beacon installed near an airfield to facilitate instrument approaches.

McGraw-Hill Dictionary of Scientific & Technical Terms, 6E, Copyright © 2003 by The McGraw-Hill Companies, Inc.
compass locator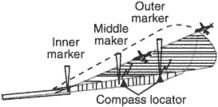 A low or medium frequency nondirectional beacon co-located with middle or outer marker beacons to help establish the pilot on the localizer for an ILS (instrument landing system) approach. Such locators have a power output of less than 25 watts and a range of at least 25 miles. They operate between 190 and 535 kHz and transmit a continuous carrier with either 400 or 1020 Hertz (Hz) modulation. The compass locator positioned along the outer marker is called the
outer compass locator
and that along the middle marker is called the
middle compass locator
. These are indicated on the charts by the symbol
.
An Illustrated Dictionary of Aviation Copyright © 2005 by The McGraw-Hill Companies, Inc. All rights reserved