composite video
(redirected from composite jack)
composite video
An analog video color format that combines all three YUV video signals into one channel. The first video signal to include color, composite video transmits brightness/luma (Y) and colors/chroma (U and V) over one cable. NTSC, PAL and SECAM television sets have composite video inputs. Most analog TVs also include S-video and component video connections, which provide a sharper image than composite video. See YUV, S-video and component video.

Back to the 1950s
Composite video was created when color was added to black & white TV in 1954. The color signal was multiplexed with the monochrome signal and transmitted in the same TV channel (see NTSC).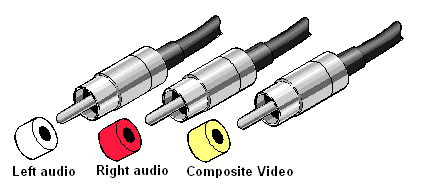 Composite Video Jacks
The yellow RCA jack is the composite video socket found on myriad consumer video devices. Professional equipment may not support composite video.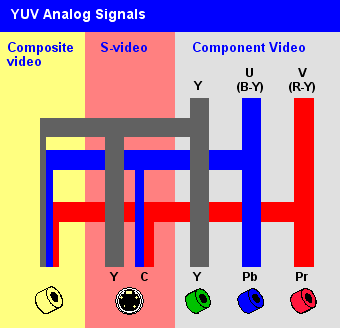 Signal Comparison
The top diagram shows how composite, S-video and component video signals are related. The device on the bottom shows the actual ports from an NVIDIA graphics card. Most equipment supports composite video as it was the first video color format. (Bottom image courtesy of NVIDIA Corporation.)
Signal Comparison
The top diagram shows how composite, S-video and component video signals are related. The device on the bottom shows the actual ports from an NVIDIA graphics card. Most equipment supports composite video as it was the first video color format. (Bottom image courtesy of NVIDIA Corporation.)