compressibility burble
compressibility burble
[

kəm'pres·ə′bil·əd·ē 'bər·bəl

]

(fluid mechanics)

A region of disturbed flow, produced by and rearward of a shock wave.

McGraw-Hill Dictionary of Scientific & Technical Terms, 6E, Copyright © 2003 by The McGraw-Hill Companies, Inc.
compressibility burble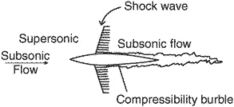 A region of disturbed flow produced by and occurring aft of shock wave. Control difficulties may occur when controls are in the compressibility burble regime. See also
burble point
.
An Illustrated Dictionary of Aviation Copyright © 2005 by The McGraw-Hill Companies, Inc. All rights reserved