conservatory
Also found in:
Dictionary
,
Thesaurus
,
Acronyms
,
Wikipedia
.
conservatory
1. a greenhouse, esp one attached to a house
Collins Discovery Encyclopedia, 1st edition © HarperCollins Publishers 2005
Conservatory
A school for teaching music, drama, or other fine arts; a glass-enclosed room of a house for the cultivation and display of plants.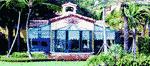 Illustrated Dictionary of Architecture Copyright © 2012, 2002, 1998 by The McGraw-Hill Companies, Inc. All rights reserved
The following article is from The Great Soviet Encyclopedia (1979). It might be outdated or ideologically biased.
Conservatory
a higher music education establishment that trains specialists in music—performers (instrumentalists, vocalists, and conductors), composers, and musicologists.
In the 16th century the term "conservatory" referred to orphans' and waifs' shelters where the children were taught trades. (The first was founded in Naples in 1537.) Instruction in music was introduced in the shelters in the 17th century. By the 18th century, Italian conservatories were already playing a major role in training performers and composers, and musicians from other European countries came to study at them. In the period of the establishment and development of the bourgeois system in the Western European countries it became necessary to found special institutions for higher education in music, because of the growing demand for the training of professional musicians. The first such institution was the National Music Institute in Paris (1793), an outgrowth of which was the Conservatory of Music and Declamation, organized in 1795.
In the first half of the 19th century conservatories were founded in many European cities, including Bologna (1804), Milan (1807), Naples (1808), Florence and Prague (1811), Warsaw and Vienna (1821), London (1822), the Hague (1826), and Liege (1827). They were also opened in Genoa (1829), Madrid (1830), Brussels (1832), Geneva (1835), Budapest (1840), Leipzig (1843), Lucca (1842), Munich (1846), and Berlin and Cologne (1850). In the second half of the 19th century the network of conservatories expanded considerably. New conservatories were opened in Europe and in America, including those in Rio de Janeiro (1847), Boston (1853), Bucharest (1864), Baltimore and Chicago (1868), Ghent (1871), Havana (1885), and Buenos Aires (1893). In the early 20th century, conservatories were opened in La Paz (Bolivia, 1903), Sofia (1921), Philadelphia (the Curtis Institute of Music, 1924), New York (the Juilliard School of Music, 1926), and Shanghai (1927). Establishments for advanced training in music were organized in the 1940's in several Asian and African countries, including Iraq, Lebanon, and Kenya.
Many foreign music education establishments similar to conservatories are called academies, higher music schools, music institutes, colleges, and lycées. In some countries, such as Czechoslovakia, conservatories are secondary-education establishments, and many conservatories have children's divisions. In most countries conservatories train only performers and composers; musicologists study in university music departments. The term of study in a conservatory ranges from three to five years.
The first Russian conservatories were organized in St. Petersburg (1862) and Moscow (1866). In 1883 the Music and Drama School of the Moscow Philharmonic Society was opened. (From 1886, it was recognized as a conservatory.) Later, conservatories were organized in Saratov (1912) and in Kiev and Odessa (1913). Under Soviet power conservatories have been founded in the

of the Union republics. Soviet conservatories are state higher music educational institutions whose curricula build on the foundation provided by secondary general and music education.
In 1972 there were 19 conservatories in the USSR, including the Uzeir Gadzhibekov Azerbaijan Conservatory (founded in 1921 in Baku), the Astrakhan Conservatory (1969), the A. V. Lunacharskii Byelorussian Conservatory (1932, Minsk), the M. I. Glinka Gorky Conservatory (1946), the Komitas Yerevan Conservatory (1923), and the Kazan Conservatory (1945). Other Soviet conservatories include the P. I. Tchaikovsky Kiev Conservatory (1913), the J. Wihtol Latvian Conservatory (1919, Riga), the N. A. Rimsky-Korsakov Leningrad Conservatory (1862), the Lithuanian Conservatory (1945, Vilnius), the N. V. Lysenko L'vov Conservatory (1939), the P. I. Tchaikovsky Moscow Conservatory (1866), and the M. I. Glinka Novosibirsk Conservatory (1956). Soviet musicians are also trained at the A. V. Nezhdanova Odessa Conservatory (1913), the L. V. Sobinov Saratov Conservatory (1912), the Tallinn Conservatory (1919), the Tashkent Conservatory (1934), the V. Saradzhishvili Tbilisi Conservatory (1917), and the M. P. Mussorgsky Urals Conservatory (1934, Sverdlovsk).
A conservatory includes departments of theory and composition, voice, piano, orchestra, and folk instruments. Some conservatories have a department of conducting. All conservatories except the Moscow Conservatory have correspondence divisions in all specialties, excluding solo singing. At the majority of conservatories evening divisions and two-year voice preparatory divisions have been organized, as well as special secondary music boarding schools for exceptionally gifted children.
Soviet conservatories train not only performers and composers but also musicologists—historians and theorists of music. The five-year course of study provides for the comprehensive theoretical and practical training of the musician for professional activity. In the curriculum an important place is assigned to performance and to practice in teaching. Besides the specialized musical disciplines, the curriculum provides for a cycle of sociopolitical sciences, a course in the history of fine arts, and foreign language study. In the large conservatories graduate schools have been established for training scholarly workers in music theory and history. There are also assistantships and apprenticeships for art workers (composers and performers) and for teachers at higher educational establishments.
The Great Soviet Encyclopedia, 3rd Edition (1970-1979). © 2010 The Gale Group, Inc. All rights reserved.
conservatory
1. A school for the teaching of music, drama, or other fine arts.
2.
A structure chiefly used for growing flowers, plants, and outof-season fruits and vegetables under protected conditions; it is attached to a dwelling, in contrast to a greenhouse which serves the same purpose but is usually a separate structure in a garden or field. Also see
orangery, greenhouse
, and
hothouse
.
McGraw-Hill Dictionary of Architecture and Construction. Copyright © 2003 by McGraw-Hill Companies, Inc.