constant of the cone
Also found in:
Dictionary
.
constant of the cone
[′kän·stənt əvthə ′kōn]

(mapping)

The chart convergence factor for a conic projection.

McGraw-Hill Dictionary of Scientific & Technical Terms, 6E, Copyright © 2003 by The McGraw-Hill Companies, Inc.
constant of the cone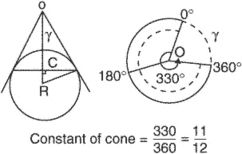 The ratio of convergence between any two meridians on a map or a chart to the actual change of longitude between them. Constant of the Cone = Sector Angle/360 = Chart Convergence/Change of Longitude.
An Illustrated Dictionary of Aviation Copyright © 2005 by The McGraw-Hill Companies, Inc. All rights reserved