contrast
(redirected from contrastably)
Also found in:
Dictionary
,
Thesaurus
,
Medical
.
contrast
1. (in painting) the effect of the juxtaposition of different colours, tones, etc.
2.
a. (of a photographic emulsion) the degree of density measured against exposure used
b. the extent to which adjacent areas of an optical image, esp on a television screen or in a photographic negative or print, differ in brightness
3. Psychol the phenomenon that when two different but related stimuli are presented close together in space and/or time they are perceived as being more different than they really are
Collins Discovery Encyclopedia, 1st edition © HarperCollins Publishers 2005
Contrast
A juxtaposition of dissimilar elements to show the differences of form or color, or to set in opposition in order to emphasize the differences.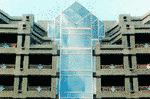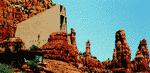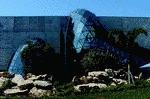 Illustrated Dictionary of Architecture Copyright © 2012, 2002, 1998 by The McGraw-Hill Companies, Inc. All rights reserved
The following article is from The Great Soviet Encyclopedia (1979). It might be outdated or ideologically biased.
Contrast
in psychology, the subjective exaggeration of the differences between perceived objects or between certain sectors of the visual field during their spatial (simultaneous contrast) or temporal (successive contrast) contiguity. Thus, when the color black is placed next to white it seems even blacker. Contrast may also be manifested in color change. For example, a gray square on a red background seems greenish blue; on a blue background it looks orange. The sharpest contrast of two colors is expressed at the boundary of the two areas (boundary contrast). The phenomenon of assimilation is the opposite of contrast. Contrast is widely used in various forms of art and literature.
REFERENCES
Vudvorts, R. Eksperimental'naia psikhologiia. Moscow, 1950.
Teplov, B. M. "Vzaimodeistvie odnovremennykh svetovykh oschchushchenii." In Zritel'nye oshchushcheniia i vospriiatiia. Moscow-Leningrad, 1935.
The Great Soviet Encyclopedia, 3rd Edition (1970-1979). © 2010 The Gale Group, Inc. All rights reserved.
contrast
[

′kän'trast

]

(communications)

The degree of difference in tone between the lightest and darkest areas in a television or facsimile picture.

(computer science)

In optical character recognition, the difference in color, reflectance, or shading between two areas of a surface, for example,a character and its background.

McGraw-Hill Dictionary of Scientific & Technical Terms, 6E, Copyright © 2003 by The McGraw-Hill Companies, Inc.
contrast
The white level of a display screen. The contrast adjusts how bright the white is. See brightness and contrast ratio.

Copyright © 1981-2019 by The Computer Language Company Inc. All Rights reserved. THIS DEFINITION IS FOR PERSONAL USE ONLY. All other reproduction is strictly prohibited without permission from the publisher.