control surface
Also found in:
Dictionary
,
Thesaurus
,
Wikipedia
.
control surface:
see airfoilairfoil,
surface designed to develop a desired force by reaction with a fluid, especially air, that is flowing across the surface. For example, the fixed wing surfaces of an airplane produce lift, which opposes gravity.
.....

Click the link for more information.

.
control surface
[

kən′trōl 'sər·fəs

]

(aerospace engineering)

Any movable airfoil used to guide or control an aircraft, guided missile, or the like in the air, including the rudder, elevators, ailerons, spoiler flaps, and trim tabs.

In restricted usage, one of the main control surfaces, such as the rudder, an elevator, or an aileron.
control surface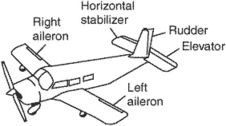 Aerodynamic surfaces operated from the cockpit controls to control the trajectory of an aircraft. The three primary controls are ailerons, elevators, and rudders. Flaps are secondary control surfaces.