cop
(redirected from cops it)
Also found in:
Dictionary
,
Thesaurus
,
Medical
,
Financial
,
Idioms
.
cop
a conical roll of thread wound on a spindle
Collins Discovery Encyclopedia, 1st edition © HarperCollins Publishers 2005
The following article is from The Great Soviet Encyclopedia (1979). It might be outdated or ideologically biased.
Cop
in textile manufacture, a type of yarn package on spinning machines with spindles when the yarn is wound on a bobbin, tube, or the spindle itself. Its shape is conical or, less often, cylindrical; in the latter case the ends may be conical. A cop should be strong and thick and permit easy unwinding of the yarn in an axial direction.
The Great Soviet Encyclopedia, 3rd Edition (1970-1979). © 2010 The Gale Group, Inc. All rights reserved.
coping

A protective cap, top, or cover of wall, parapet, pilaster, or chimney; often of stone, terra-cotta, concrete, metal, or wood. May be flat, but commonly sloping, double-beveled, or curved to shed water so as to protect masonry below from penetration of water from above. Most effective if extended beyond wall face and cut with a drip. Also see
featheredged coping.
---
merlon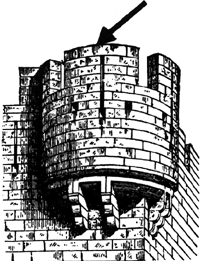 In an embattled parapet, one of the solid alternates between the embrasures. also see
battlement.
McGraw-Hill Dictionary of Architecture and Construction. Copyright © 2003 by McGraw-Hill Companies, Inc.