core
(redirected from corers)
Also found in:
Dictionary
,
Thesaurus
,
Medical
.
Core
Core
(kōˈrē)
, variant of
Korah
.
The Columbia Electronic Encyclopedia™ Copyright © 2022, Columbia University Press. Licensed from Columbia University Press. All rights reserved.
core
1. The central region of a star, such as the Sun, in which energy is generated by thermonuclear reactions.
Collins Dictionary of Astronomy © Market House Books Ltd, 2006
The following article is from The Great Soviet Encyclopedia (1979). It might be outdated or ideologically biased.
Core
a cylindrical column of rock drilled out as a result of annular breaking of the face of a borehole. The crushed rock is brought to the surface through the annulus outside or inside the pipe by mud or compressed air or gas injected into the borehole by a mud pump or compressor, and the core enters a core barrel. Every 0.5–6.0 m, the core is wedged, separated from the bottom, and raised to the surface with the coring tool. The core is conveyed to the surface almost continuously in the internal cavity of the pipe string; thus, the depth from which a sample comes may be determined. A macroscopic description of the core is made according to its external appearance. Later, the core is cut lengthwise into two parts, each of which undergoes chemical, geologic, and petrographic analysis and is studied to determine the physiomechanical properties of the rock. The remaining part of the core is preserved as a basic geologic document. The core yield is defined as a percentage of the drilled length in meters. A 100 percent core yield makes possible the completely reliable study of the rocks intersected by a borehole and the determination of the reserves of a mineral.
---
Core
(archaeology), a piece of flint or other rock from which chips or blades were struck off or removed by the application of pressure and used to fashion stone implements. The core always had a striking platform, that is, the flat surface remaining after the initial piece of stone was broken off; it also had depressions or grooves resulting from the chipping off of flakes and prying off of blades and radiating at an angle to the striking platform. Disk-shaped or tortoise-shaped cores are typical of the Paleolithic Mousterian culture. Pyramidal, pencil-shaped, and prismatic cores existed during the Upper Paleolithic, Mesolithic, Neolithic, and Aeneolithic.
The Great Soviet Encyclopedia, 3rd Edition (1970-1979). © 2010 The Gale Group, Inc. All rights reserved.
core
[

kȯr

]

(anatomy)

A fingerprint focal point which is the point on a ridge that is located in the approximate center of the finger impression.

(archeology)

A piece of stone from which flakes or blades were removed by prehistoric toolmakers; usually it was the by-product of toolmaking but may also have served as an implement.

(atomic physics)

The electrons in the filled shells of an atom.

(electronics)

(electromagnetism)

(engineering)

The inner material of a wall, column, veneered door, or similar structure.

(geology)

Center of the earth, beginning at a depth of 2900 kilometers. Also known as earth core.

A vertical, cylindrical boring of the earth from which composition and stratification may be determined; in oil or gas well exploration the presence of hydrocarbons or water are items of interest.

(graphic arts)

An unflanged cylindrical reel on which film is wound.

(materials)

The center layers of a sheet of plywood.

(metallurgy)

A specially formed part of a mold used to form internal holes in a casting.

(nuclear physics)

The nucleons in the filled shells of a nucleus.

(nucleonics)

The active portion of a nuclear reactor, containing the fissionable material.

(oceanography)

That area within a layer of ocean water where parameters such as temperature, salinity, or velocity reach extreme values.

(science and technology)

The central part of a body or structure.

McGraw-Hill Dictionary of Scientific & Technical Terms, 6E, Copyright © 2003 by The McGraw-Hill Companies, Inc.
core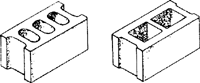 1. The center of a plywood or crossbanded construction; it may consist of lumber (solid or glued) or particleboard; serves as a base for veneer.
3. The wood chips cut from a mortise.
4. The metal bar to which a handrail is attached.
5. The internal structure which serves as a base for complex plasterwork.
6. The molded open space in a concrete masonry unit.
7. The filling within a thick hollow stone wall.
8. The filling between a lintel and relieving arches.
9. A cylindrical sample of hardened concrete or rock obtained by means of a core barrel and drill.
10. A part of a multistory building, containing a variety of service and utility functions, as elevators, stairwells, etc.
11.
That part of a magnetic circuit (usually steel or iron laminations) about which are wound coils in electromagnetic devices such as transformers, solenoids, relays, etc.; a
magnetic core.
12. (Brit.) The conductor of a cable with its insulation, but not including any outer protective covering.
14. Of gypsum board, the hardened material filling the space between a face paper and a back paper; consists primarily of gypsum with additives.
McGraw-Hill Dictionary of Architecture and Construction. Copyright © 2003 by McGraw-Hill Companies, Inc.
core
1. the central part of certain fleshy fruits, such as the apple or pear, consisting of the seeds and supporting parts
2. a piece of magnetic material, such as soft iron, placed inside the windings of an electromagnet or transformer to intensify and direct the magnetic field
3. Geology the central part of the earth, beneath the mantle, consisting mainly of iron and nickel, which has an inner solid part surrounded by an outer liquid part
4. a cylindrical sample of rock, soil, etc., obtained by the use of a hollow drill
5. shaped body of material (in metal casting usually of sand) supported inside a mould to form a cavity of predetermined shape in the finished casting
6. Physics the region of a nuclear reactor in which the reaction takes place
7. Computing a ferrite ring formerly used in a computer memory to store one bit of information
8. Archaeol a lump of stone or flint from which flakes or blades have been removed
9. Physics the nucleus together with all complete electron shells of an atom
Collins Discovery Encyclopedia, 1st edition © HarperCollins Publishers 2005
core
1. <storage>
Main memory
or
RAM
. This term dates from the days of
ferrite core memory
; now archaic most places outside
IBM
, but also still used in the
Unix
community and by old-time hackers or those who would sound like them.
Some derived idioms are quite current; "in core", for example, means "in memory" (paged in, as opposed to "on disk", paged out), and both
core dump
and the "core image" or "core file" produced by one are terms in favour. Some varieties of Commonwealth hackish prefer
store
.
This article is provided by FOLDOC - Free Online Dictionary of Computing (foldoc.org)
core
(1) The heart, or central part, of something. The core of a network is its backbone. A core program would be the primary routines that serve the entire application (see kernel).

(2) In digital electronics, it typically refers to a relatively large, general-purpose logic function that is used as a building block in a chip design. Examples are microprocessor, microcontroller and DSP cores. Cores may be developed internally, but are generally purchased from third-party intellectual property (IP) vendors. See soft core and hard core.

(3) A CPU. A microprocessor with two cores (dual cores) is a single chip that contains two processors. See dual core and multicore.

(4) (Core) A family of CPU chips from Intel. Introduced in 2006, the Core line was developed to supersede the Pentium brand. See Intel Core.

(5) A round magnetic doughnut that represents one bit in an earlier core storage system. When core storage was common in the 1960s, a computer's main memory used to be called "core." See core storage.

Copyright © 1981-2019 by The Computer Language Company Inc. All Rights reserved. THIS DEFINITION IS FOR PERSONAL USE ONLY. All other reproduction is strictly prohibited without permission from the publisher.