cornucopia
Also found in:
Dictionary
,
Thesaurus
,
Wikipedia
.
cornucopia
(kôr'nyo͞okō`pēə)

, in Greek mythology, magnificent horn that filled itself with whatever meat or drink its owner requested. Some legends designate it as a horn of the river god Achelous, others as a horn of the goat Amalthaea. It is often represented as filled with fruits and flowers and has become the symbol of plenty.
cornucopia
A goat's horn overflowing with fruits, flowers and corn, signifying prosperity; a horn of plenty; any cone-shaped receptacle or ornament.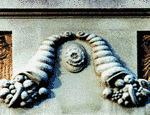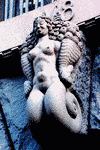 See also: Ornament
Cornucopia
(also horn of plenty), in Greek mythology, the horn of the goat Amalthea, Zeus' wet nurse. According to the myth, the horn possessed the magical ability to provide its owners with unlimited food and drink. In the figurative sense, a cornucopia is a symbol of abundance and wealth.
cornucopia
conical receptacle which symbolizes abundance. [Rom. Myth.: Kravitz, 65]
---
cornucopia
conical receptacle full of the fruits of the harvest. [World Culture: Misc.]
cornucopia
1. Greek myth the horn of Amalthea, the goat that suckled Zeus
2. a representation of such a horn in painting, sculpture, etc., overflowing with fruit, vegetables, etc.; horn of plenty