cotter pin
(redirected from cotter pins)
Also found in:
Dictionary
,
Thesaurus
.
cotter pin
Machinery
1. a split pin secured, after passing through holes in the parts to be attached, by spreading the ends
2. a tapered pin threaded at the smaller end and secured by a nut after insertion
Cotter Pin
a wire strip semicircular in cross section and bent approximately in half. Cotter pins are used to fasten lightly stressed, coupled parts or to prevent nuts from loosening. After a cotter pin is inserted through a hole, its ends are separated. Half of the pin is longer than the other for convenient separation. Cotter pins are made of carbon steel.
cotter pin
[

′käd·ər 'pin

]

(design engineering)

A split pin, inserted into a hole, to hold a nut or cotter securely to a bolt or shaft, or to hold a pair of hinge plates together.
cotter pin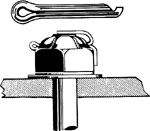 A metal pin used for fastening; the split ends which project beyond the pin hole are bent back from the axis of the pin.