crankshaft
Also found in:
Dictionary
,
Thesaurus
,
Acronyms
,
Wikipedia
.
crankshaft
a shaft having one or more cranks, esp the main shaft of an internal-combustion engine to which the connecting rods are attached
Collins Discovery Encyclopedia, 1st edition © HarperCollins Publishers 2005
The following article is from The Great Soviet Encyclopedia (1979). It might be outdated or ideologically biased.
Crankshaft
a shaft consisting of one or more cranks and several coaxial crank journals resting on bearings.
Each crank of the crankshaft has two flanges and a journal for attaching a connecting rod. The axes of a crankpin are displaced relative to the axis of rotation of the crankshaft. In order to balance the crankshaft in operation, the flanges often have counterweights. The crankshaft is the rotating unit of a crank gear; it is used in piston engines, pumps, compressors, and forging and pressing machinery. In piston engines, the number of cranks on the crankshaft is usually equal to the number of cylinders, the arrangement of the cranks depends on the operating cycle and the conditions for counterbalancing the engine and arranging the cylinders.
Crankshafts are made whole, cast, or forged of carbon steel and alloy steel or high-strength cast iron. However, since antifriction bearings cannot be used with whole crankshafts, built-up crankshafts are sometimes made. Depending on production conditions, large crankshafts (journal diameter, to 1 m) can also be of built-up design. The simplest crankshafts to produce are those in which the axes of all of the crankpins are located in a single plane. The simplest crankshaft is the crank.
The Great Soviet Encyclopedia, 3rd Edition (1970-1979). © 2010 The Gale Group, Inc. All rights reserved.
crankshaft
[

′kraŋk'shaft

]

(mechanical engineering)

The shaft about which a crank rotates.

McGraw-Hill Dictionary of Scientific & Technical Terms, 6E, Copyright © 2003 by The McGraw-Hill Companies, Inc.
crankshaft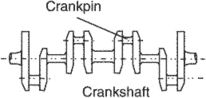 The central component of a reciprocating engine, a high-strength, alloy steel shaft with a hardened and polished bearing surface that rides the bearing in the crankcase. The propeller of an aircraft and the rotor transmission system of a helicopter is driven by the crankshaft.
An Illustrated Dictionary of Aviation Copyright © 2005 by The McGraw-Hill Companies, Inc. All rights reserved