Phosphocreatine
(redirected from creatine phosphate)
Also found in:
Dictionary
,
Thesaurus
,
Medical
,
Acronyms
,
Wikipedia
.
phosphocreatine
[

¦fäs·fō′krē·ə'tēn

]

(biochemistry)

C4H10N3O5P Creatine phosphate, a phosphoric acid derivative of creatine which contains an energy-rich phosphate bond; it is present in muscle and other tissues, and during the anaerobic phase of muscular contraction it hydrolyzes to creatine and phosphate and makes energy available. Abbreviated PC.

McGraw-Hill Dictionary of Scientific & Technical Terms, 6E, Copyright © 2003 by The McGraw-Hill Companies, Inc.
The following article is from The Great Soviet Encyclopedia (1979). It might be outdated or ideologically biased.
Phosphocreatine
(creatine phosphate, creatine phosphoric acid), a product of creatine phosphorylation; an energy-rich compound.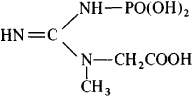 Phosphocreatine was first discovered in 1927 in fresh specimens of muscle tissue. It can be prepared by treating creatine with POCI3 in an alkaline medium. One of the energy sources for muscle contraction is the readily reversible decomposition of phosphocreatine, catalyzed by the enzyme creatinase: phosphocreatine + ADP ⇄ creatine + ATP. A decrease in the ATP content in the tissues leads to the decomposition of phosphocreatine; an increase in ATP content leads to its synthesis. Thus, phosphocreatine forms a reserve of energy-rich phosphate, both the phosphate and stored energy of which can be used in the formation of ATP. In tissues, phosphocreatine undergoes gradual spontaneous decomposition to yield inorganic phosphate and creatinine, which is eliminated with the urine. Arginine phosphate replaces phosphocreatine in many invertebrates (for example, insects).
The Great Soviet Encyclopedia, 3rd Edition (1970-1979). © 2010 The Gale Group, Inc. All rights reserved.