crest
Also found in:
Dictionary
,
Thesaurus
,
Medical
,
Financial
,
Acronyms
,
Idioms
,
Wikipedia
.
crest,
in feudal livery, an ornament of the headpiece that afforded protection against a blow. The term is incorrectly used to mean family coat of arms. Crests were widely used in the 13th cent. by feudal chiefs, as they had been by ancient Greek warriors and the Roman centurions. The earlier forms were usually of stuffed leather, gilded, silvered, or painted; later they were of wood or metal. The crest came to be used in heraldryheraldry,
system in which inherited symbols, or devices, called charges are displayed on a shield, or escutcheon, for the purpose of identifying individuals or families.
.....

Click the link for more information.

, first only by persons of high rank, then by all those entitled to a coat of arms. It surmounts the escutcheon; its colors are those of the coat of arms. The dragon, wivern, and plume of feathers are common crests. The lion, used by Edward III of England, remains the crest of the English sovereigns. See also blazonryblazonry
, science of describing or depicting armorial bearings. The introduction, since the Middle Ages, of artificial rules and fanciful medieval terms has complicated the science, particularly in England.
.....

Click the link for more information.

.
Crest
(1) A bony protrusion in vertebrates and man that increases the area for muscle attachment. For example, the skulls of many mammals have, on the occipital and parietal bones, crests whose size depends upon the degree of development of the attached musculature. The sternum of flying birds has a high thin crest called the carina, to which the pectoral muscles, which draw the wings downward, are attached.
(2) A fleshy growth (in English, also called the comb) at the top of the head in some birds (many gallinaceans and accipi-ters, such as the American black vulture). In breeds of domestic fowl the crest takes a variety of forms (foliate, rosaceous, or nutlike). Varieties of chicken with well-developed tufts usually have no comb (for example, the Dutch and Padua hens).
crest
[

krest

]

(design engineering)

The top of a screw thread.

(science and technology)

The highest point of a structure or natural formation, such as the top edge of a dam, the ridge of a roof, the highest point of a gravity wave, or the highest natural projection of a hill or mountain.
crest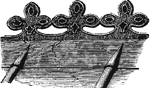 1. A finial.
2.
An ornament of a roof, a roof screen, wall, or aedicula, generally rhythmic and highly decorative, and frequently perforated;
cresting.
crest
1. a tuft or growth of feathers, fur, or skin along the top of the heads of some birds, reptiles, and other animals
2. a ridge on the neck of a horse, dog, lion, etc.
3. the mane or hair growing from this ridge
4. a ridge along the surface of a bone
5. Archery identifying rings painted around an arrow shaft