critical Mach number
Also found in:
Wikipedia
.
critical Mach number
[

′krid·ə·kəl ′mäk 'nəm·bər

]

(aerospace engineering)

The free-stream Mach number at which a local Mach number of 1.0 is attained at any point on the body under consideration.

McGraw-Hill Dictionary of Scientific & Technical Terms, 6E, Copyright © 2003 by The McGraw-Hill Companies, Inc.
critical Mach number (Mcrit)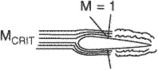 i
. The local Mach number at which airflow at any part of the wing attains a velocity equal to the local speed of sound.
ii
. The Mach number at which compressibility effects significantly influence the handling characteristics of an aircraft. This is applicable to subsonic aircraft.
An Illustrated Dictionary of Aviation Copyright © 2005 by The McGraw-Hill Companies, Inc. All rights reserved