critical angle
(redirected from critical angles)
Also found in:
Dictionary
,
Thesaurus
,
Medical
.
critical angle:
see refractionrefraction,
in physics, deflection of a wave on passing obliquely from one transparent medium into a second medium in which its speed is different, as the passage of a light ray from air into glass.
.....

Click the link for more information.

.
critical angle
[

′krid·ə·kəl ¦aŋ·gəl

]

(architecture)

The angle of pitch of a flight of stairs or a ramp that, if exceeded, is considered uncomfortable and unsafe; it is 50° for stairs and 20° for ramps.

(physics)

An angle associated with total reflection of electromagnetic or acoustic radiation back into a medium from the boundary with another medium in which the radiation has a higher phase velocity; it is the smallest angle with the normal to the boundary at which total reflection occurs.
critical angle
An angle of pitch of stairs or a ramp which is considered uncomfortable and unsafe if exceeded; this angle is 50° for stairs and 20° for ramps.
critical angle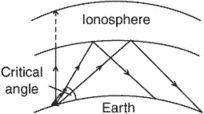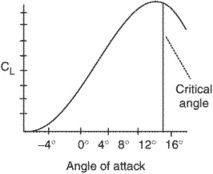 i
. The minimum angle of incidence at which a radio wave of a particular frequency can strike the ionosphere and still be reflected back to the earth. Critical angle is a function of frequency; the higher the frequency, the larger the critical angle.
ii
. The angle of attack of an airfoil at which the flow of air about the airfoil changes abruptly in such a manner that the lift is sharply reduced and the drag is sharply increased. Sometimes called
stalling angle of attack
.
iii
. The angle at which a reflected ray of light when transmitted from a denser to a rarer medium is bent so far from the normal that it does not enter the rarer medium at all but travels parallel to the surface between the media.
iv
. The angle of bank beyond which a helicopter resting on the ground on one skid or one wheel is likely to roll over in an uncontrolled manner.
At the instant of rollover of a helicopter, a moment is produced by the horizontal component of total rotor thrust about the point of ground contact of the skid. This moment is opposed by weight of the aircraft. If the angle of bank is beyond the critical angle the restoring moment is too small to stop the helicopter from rolling over.
critical angle
In an optical fiber, the maximum angle from the axis at which light can remain confined within the core for "total internal reflection." In contrast to the "acceptance angle," which is measured outside the fiber, the critical angle is a measurement within the fiber. See numerical aperture.