croquet
(redirected from croquet ball)
Also found in:
Dictionary
,
Thesaurus
,
Wikipedia
.
croquet
(krōkā`)

, lawn game in which the players hit wooden balls with wooden mallets through a series of 9 or 10 wire arches, or wickets. The first player to hit the posts placed at each end of the field wins. The game developed in France in the 17th cent. Though the American public identifies it as a casual picnic sport, higher levels of play that feature manicured playing surfaces, skilled shotmaking, and cutthroat strategy increased in the 1980s. An annual contest between the United States Naval Academy and St. John's College of Annapolis is a growing rivalry.

The Columbia Electronic Encyclopedia™ Copyright © 2013, Columbia University Press. Licensed from Columbia University Press. All rights reserved.

www.cc.columbia.edu/cu/cup/
The following article is from The Great Soviet Encyclopedia (1979). It might be outdated or ideologically biased.
Croquet
a sport in which each player uses a wooden mallet to knock a ball through a number of wire wickets in a specified order, and as fast as possible, to hit the goal—the opponent's peg —and then to return the ball to its own peg.
Croquet was played in France in the 17th century and spread in the 19th century to many countries, including Russia, primarily as a means of relaxation and amusement. The game is played on an even earthen or grassy court of arbitrary size (24–90 m long and 13.5–45 m wide). The balls are 8.28 cm in diameter; the mallet handle is up to 1 m in length; the wickets are of no set size (approximately 25 × 25 cm). In the late 19th century roque, a variant of croquet, appeared; played on a clay court 18 × 19m with fixed wickets only 2.54 cm wider than the ball, it was included in the Olympic program in 1904. Official croquet and roque competitions are not held.
The Great Soviet Encyclopedia, 3rd Edition (1970-1979). © 2010 The Gale Group, Inc. All rights reserved.
crocket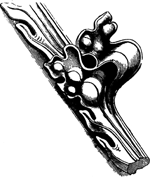 In Gothic architecture and derivatives, an upward-oriented ornament, often vegetal in form, regularly spaced along sloping or vertical edges of emphasized features such as spires, pinnacles, and gables.
McGraw-Hill Dictionary of Architecture and Construction. Copyright © 2003 by McGraw-Hill Companies, Inc.
croquet
a game for two to four players who hit a wooden ball through iron hoops with mallets in order to hit a peg
www.croquet.org.uk
www.croquetamerica.com
Collins Discovery Encyclopedia, 1st edition © HarperCollins Publishers 2005