CR
(redirected from crown-rump)
Also found in:
Dictionary
,
Thesaurus
,
Medical
,
Financial
.
Cr,
symbol for the element chromiumchromium
[Gr.,=color], metallic chemical element; symbol Cr; at. no. 24; at. wt. 51.9961; m.p. about 1,857&degC;; b.p. 2,672&degC;; sp. gr. about 7.2 at 20&degC;; valence +2, +3, +6. Chromium is a silver-gray, lustrous, brittle, hard metal that can be highly polished.
.....

Click the link for more information.

.
Cr
(chemistry)
---
CR
(chemical engineering)
CR
2. Abbr. for "ceiling register."
---
cross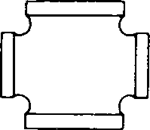 1. An object consisting primarily of two straight or nearly straight pieces forming right angles with one another; the usual symbol of the Christian religion.
2. A monument or small building of any kind surmounted by a cross, 1, as a market cross.
CR
(1) See cognitive radio and conversion rate.

(2) (Carriage Return) The character code generated when the Enter key is pressed. In ASCII and EBCDIC systems, the code is a decimal 13 or hex 0D. See line break.