crystalline
Also found in:
Dictionary
,
Thesaurus
,
Medical
,
Legal
,
Acronyms
,
Wikipedia
.
crystalline
1. having the characteristics or structure of crystals
2. consisting of or containing crystals
crystalline
[

′kris·tə·lən

]

(crystallography)

Of, pertaining to, resembling, or composed of crystals.
crystalline
Like a crystal. It refers to a uniform atomic structure throughout the entire material. For example, the silicon in most integrated circuits is crystalline (see crystalline silicon). In phase change optical discs, the spots (bits) on the recording layer that are crystalline allow a greater reflection of the laser beam than do the amorphous spots, which have a random atomic structure. Contrast with amorphous. See liquid crystal, phase change disc and phase change memory.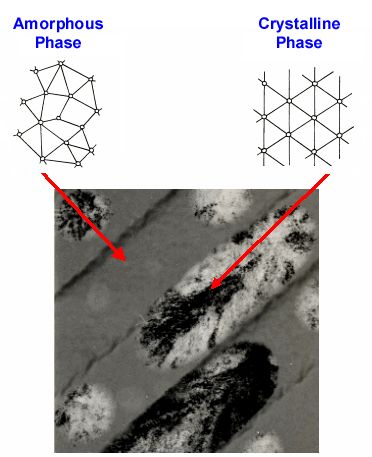 Crystalline vs. Amorphous
This magnified UDO disc from Plasmon shows the less reflective amorphous (grey) and more reflective crystalline (light/dark) bits. The crystalline area is not a single crystal, but a multi-crystalline region. Due to different crystal alignments and interaction of the beam used to image the material, the reflective bits appear variously light and dark. The different sizes of bits are due to UDO's encoding method. (Image courtesy of Plasmon, www.plasmon.com)