cupola
(redirected from cupolaed)
Also found in:
Dictionary
,
Thesaurus
,
Medical
.
cupola
1. a roof or ceiling in the form of a dome
2. a small structure, usually domed, on the top of a roof or dome
3. a vertical air-blown coke-fired cylindrical furnace in which iron is remelted for casting
Collins Discovery Encyclopedia, 1st edition © HarperCollins Publishers 2005
Cupola
A tower-like device rising from the roof, usually terminating in a miniature dome or turret with a lantern or windows to let light in.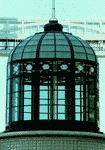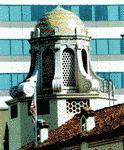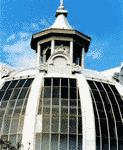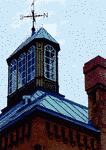 Illustrated Dictionary of Architecture Copyright © 2012, 2002, 1998 by The McGraw-Hill Companies, Inc. All rights reserved
The following article is from The Great Soviet Encyclopedia (1979). It might be outdated or ideologically biased.
Cupola
a decorative crowning piece on church buildings, which in Russian architecture has the shape of a helmet, an onion, a pear, or a similar object.
The cupola rests on a round or faceted drum; originally (in stone buildings) it was the external part of the domed top of the drum. The cupola lends to the upper part of the building its characteristic silhouette and picturesqueness, which is enhanced by the cupola's gilding, coloring, pattern, and material covering (such as tile, lemekh —plowshare-shaped wooden tile—or wrought iron). Cupolas are also found in the architecture of the Caucasus (conical and umbellate cupolas), Middle Asia, India, and some European countries.
The Great Soviet Encyclopedia, 3rd Edition (1970-1979). © 2010 The Gale Group, Inc. All rights reserved.
cupola
[

′kyü·pə·lə

]

(geology)

An isolated, upward-projecting body of plutonic rock that lies near a larger body; both bodies are presumed to unite at depth.

(metallurgy)

A vertical cylindrical furnace for melting gray iron for foundry use; the metal, coke, and flux are put into the top of the furnace onto a bed of coke through which air is blown. Also known as furnace cupola.

McGraw-Hill Dictionary of Scientific & Technical Terms, 6E, Copyright © 2003 by The McGraw-Hill Companies, Inc.
cupola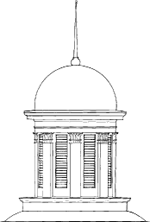 1. A domed roof or ceiling.
2. A domed structure, often set on a circular or polygonal base on a roof or set on pillars; often glazed to provide light in the space below, or louvered to provide ventilation in that space.
McGraw-Hill Dictionary of Architecture and Construction. Copyright © 2003 by McGraw-Hill Companies, Inc.