Cyclopean
(redirected from cyclopeanly)
Also found in:
Dictionary
,
Thesaurus
,
Medical
.
Cyclopean
Cyclopean
(sīkləpēˈən)
, name often applied to a primitive method of prehistoric masonry construction, found throughout Greece, Italy, and the Middle East. The term is derived from Cyclopes, the mythological beings who were supposed to have built walls in this manner. The Cyclopean technique involves the use of huge, irregular boulders, carefully fitted together without the use of mortar, thereby creating a massive wall with an uneven face. These walls were characteristic of
Mycenaean civilization
. Remaining examples are found at Knossos, Mycenae, Tiryns, and Athens. There are many Cyclopean walls in Etruscan and Anatolian architecture. Somewhat similar examples are seen in China, Japan, and Peru.
The Columbia Electronic Encyclopedia™ Copyright © 2022, Columbia University Press. Licensed from Columbia University Press. All rights reserved.
cyclopean
[

¦sī·klə¦pē·ən

]

(materials)

Mass concrete with aggregate larger than 6 inches (15 centimeters); used for thick structures such as dams.

(petrology)

McGraw-Hill Dictionary of Scientific & Technical Terms, 6E, Copyright © 2003 by The McGraw-Hill Companies, Inc.
Cyclopean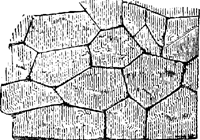 1. Describing prehistoric masonry, made of huge stone blocks laid without mortar.
2. Megalithic.
McGraw-Hill Dictionary of Architecture and Construction. Copyright © 2003 by McGraw-Hill Companies, Inc.