CYCOLOR
(redirected from cylith)
CYCOLOR
A printing technology from Cycolor, Inc., Miamisburg, OH, that produced continuous-tone photographic prints almost instantly. Developed by Mead Imaging, the technology was acquired in 1996 by Yasuhiro Oshima, a Japanese businessman who specialized in photographic services. More like film than printing, CYCOLOR was an amazing technology that never got off the ground.

The Film
CYCOLOR film contained billions of light-sensitive microcapsules, called "cyliths." Resembling gel-caps, their cyan, yellow and magenta dyes were sensitive to red, green and blue light. As the CYCOLOR film moved through the printer, the cyliths hardened based on the color and light intensity they received. The film was then pressed between rollers to release the dye. For black, the cyliths were unexposed, and all three colors burst and blended. For white, all three colors were heavily exposed and hardened and did not burst, letting the white film show through in that area. All colors in between were based on the degree of hardness of each of the cyan, yellow and magenta capsules. See also ZINK.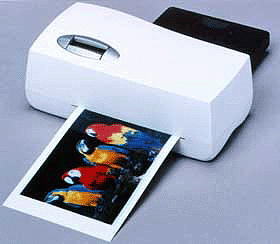 CYCOLOR Printer
Small, affordable printers such as this were expected. CYCOLOR printers were extremely fast compared to other printer technologies. (Image courtesy of Cycolor, Inc.)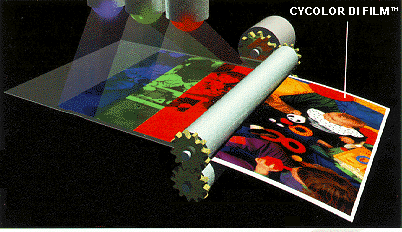 All in the Film
When exposed to light, the light-sensitive cyliths in the film harden. When pressed under the rollers, the cyliths burst and release their dye according to the level of their hardness. (Image courtesy of Cycolor, Inc.)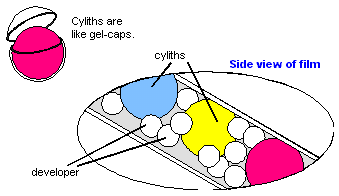 The Cylith
As many as 20,000 cyliths can fit on the head of a pin.
Copyright © 1981-2019 by The Computer Language Company Inc. All Rights reserved. THIS DEFINITION IS FOR PERSONAL USE ONLY. All other reproduction is strictly prohibited without permission from the publisher.