Cytochalasin
Also found in:
Dictionary
,
Medical
,
Wikipedia
.
cytochalasin
[

¦sīd·ō·kə′lā·sən

]

(biochemistry)

One of a series of structurally related fungal metabolic products which, among other effects on biological systems, selectively and reversibly block cytokinesis while not affecting karyokinesis; the molecule with minor variations consists of a benzyl-substituted hydroaromatic isoindolone system, which in turn is fused to a small macrolide-like cyclic ring.

McGraw-Hill Dictionary of Scientific & Technical Terms, 6E, Copyright © 2003 by The McGraw-Hill Companies, Inc.
The following article is from The Great Soviet Encyclopedia (1979). It might be outdated or ideologically biased.
Cytochalasin
one of a group of related antibiotics produced by certain types of Fungi Imperfecti. Cytochalasins were isolated in 1967 by a British research group (S. B. Carter and coworkers). The cytochalasins that have been identified— designated A, B, C, D, E, and F—have the structural formula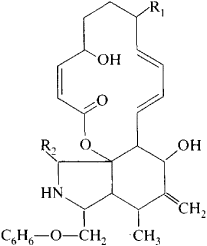 and are differentiated by the side groups R1 and R2, representing different radicals.
Cytochalasins are crystal compounds with a molecular weight of 477 to 507 and a melting point of 182° to 270°C; they are insoluble in water but freely soluble in organic solvents. In a low concentration of 1 microgram per milliliter (μg/ml), cytochalasins inhibit the formation of an intracellular dividing membrane after the complete separation of the chromosomes that takes place in cell division, or mitosis, and thus lead to the formation of multinucleate cells. In concentrations of 10 μg/ml, cytochalasins cause the nucleus to be drawn out of the cell (enucleation). Another effect of cytochalasins is to block endocytosis in macrophages. The action of cytochalasins is reversible: upon their removal, endocytosis is reestablished; the nucleus, which having left the cell has remained connected to it by a cytoplasmic bridge, reenters the cell. Cytochalasins are believed to affect the microfilaments that are elements of the cell contraction system. Cytochalasins are used in research work in cytology and physiology.
REFERENCES
Carter, S. B. "Effects of Cytochalasins on Mammalian Cells." Nature, 1967, vol. 213, no. 5073.
Carter, S. B. "The Cytochalasins as Research Tools in Cytology." Endeavour, 1972, vol. 31, no. 113.
The Great Soviet Encyclopedia, 3rd Edition (1970-1979). © 2010 The Gale Group, Inc. All rights reserved.