damper
(redirected from dampers)
Also found in:
Dictionary
,
Thesaurus
,
Idioms
.
damper
1. a movable plate to regulate the draught in a stove or furnace flue
2. a device to reduce electronic, mechanical, acoustic, or aerodynamic oscillations in a system
3. Music the pad in a piano or harpsichord that deadens the vibration of each string as its key is released
Collins Discovery Encyclopedia, 1st edition © HarperCollins Publishers 2005
Damper
An adjustable metal plate inside a flue or air duct, which regulates the draft of a stove, fireplace, or furnace, or controls the flow of air inside a duct; operates automatically in the event of a fire to close off the duct.
Illustrated Dictionary of Architecture Copyright © 2012, 2002, 1998 by The McGraw-Hill Companies, Inc. All rights reserved
The following article is from The Great Soviet Encyclopedia (1979). It might be outdated or ideologically biased.
Damper
a device for extinguishing or attenuating (damping) oscillations or preventing mechanical vibrations that occur during the operation of machines and instruments. Hydraulic and pneumatic dampers are used in automatic regulators and measuring instruments, and dampers in the form of inductance coils are used in electrical machines. The devices used to stop the vibration of the strings in multistring musical instruments are also called dampers; they consist of individual blocks (in a piano) or pads (in a harp) with felt cemented to them.
The Great Soviet Encyclopedia, 3rd Edition (1970-1979). © 2010 The Gale Group, Inc. All rights reserved.
damper
[

′dam·pər

]

(electronics)

A diode used in the horizontal deflection circuit of a television receiver to make the sawtooth deflection current decrease smoothly to zero instead of oscillating at zero; the diode conducts each time the polarity is reversed by a current swing below zero.

(mechanical engineering)

A valve or movable plate for regulating the flow of air or the draft in a stove, furnace, or fireplace.

McGraw-Hill Dictionary of Scientific & Technical Terms, 6E, Copyright © 2003 by The McGraw-Hill Companies, Inc.
damper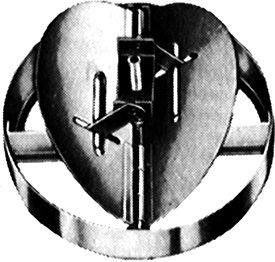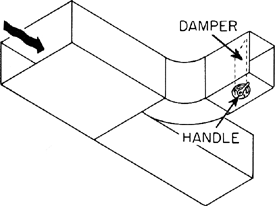 1. A device used to vary the volume of air passing through an air outlet, inlet, or duct; it does not significantly affect the shape of the delivery pattern.
2. A pivoted cast-iron plate at fireplace throat, i.e., between fireplace and smoke chamber, to regulate draft.
McGraw-Hill Dictionary of Architecture and Construction. Copyright © 2003 by McGraw-Hill Companies, Inc.