data conversion
Also found in:
Dictionary
,
Thesaurus
,
Medical
,
Legal
,
Financial
,
Wikipedia
.
data conversion
[

′dad·ə kən'vər·zhən

]

(computer science)

The changing of the representation of data from one form to another, as from binary to decimal, or from one physical recording medium to another, as from card to disk. Also known as conversion.
data conversion
Changing from one file type to another. There are many data conversion programs on the market that support a wide number of text, database, spreadsheet and graphics formats. If a text document, database or spreadsheet format is not supported in a packaged conversion program, the textual data within the file can be converted if the application that created it is available and it can export its contents to ASCII text; however, page format settings as well as macros and other attributes will be lost. If the application or the "export to ASCII" option is not available, the only recourse is to have a custom conversion program written from scratch. If there is no written documentation available for the format, the job will be a tedious one, but it can be done unless the format is inherently encrypted. See ASCII file and conversion.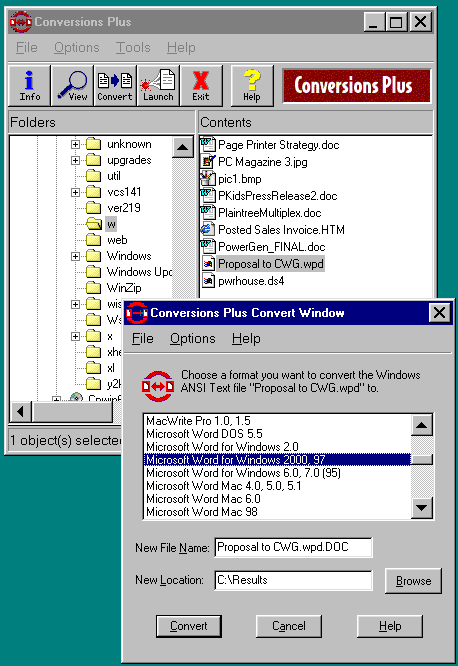 A Conversion Program
Conversion programs such as Conversions Plus from DataViz, Inc. (www.dataviz.com) provide conversion between a wide variety of file formats. This example converts a Word Perfect document (.wpd) to a Word document (.doc) by simply highlighting the source file, clicking Convert and selecting the destination format. Packaged conversion programs carry forward all layout settings as long as the target format supports the same feature.