dead space
Also found in:
Dictionary
,
Thesaurus
,
Medical
,
Acronyms
,
Wikipedia
.
dead space
[

′ded 'spās

]

(anatomy)

The space in the trachea, bronchi, and other air passages which contains air that does not reach the alveoli during respiration, the amount of air being about 140 milliliters. Also known as anatomical dead space.

(medicine)

A cavity left after closure of a wound.

(physiology)

A calculated expression of the anatomical dead space plus whatever degree of overventilation or underperfusion is present; it is alleged to reflect the relationship of ventilation to pulmonary capillary perfusion. Also known as physiological dead space.

(thermodynamics)

A space filled with gas whose temperature differs from that of the main body of gas, such as the gas in the capillary tube of a constant-volume gas thermometer.

McGraw-Hill Dictionary of Scientific & Technical Terms, 6E, Copyright © 2003 by The McGraw-Hill Companies, Inc.
dead space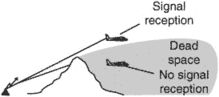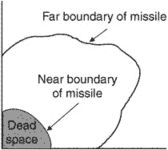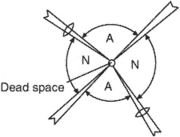 i
. An area within the maximum range of a weapon, radar, or observer that cannot be covered by fire or observation from a particular position because of intervening obstacles, the nature of the ground, the characteristics of the trajectory, or the limitations of the pointing capabilities of the weapons.
ii
. An area or zone that is within range of a radio transmitter but in which a signal is not received.
iii
. The volume of space above and around a gun or guided missile system into which it cannot fire because of mechanical or electronic limitations.
iv
. Dead spots in radio-range reception areas over transmitting stations similar to the
cone of silence
but lacking normal characteristics like buildup, dead spots, surges, and fades. This phenomenon is likely to be caused by flights over mountains, areas of ore deposits, and other factors. See also
cone of silence
.
v
. The area located between the limit of the surface wave and the point of reception of the first sky wave. It is most common in the HF (high frequency) frequency range. Also called the
skip zone
.
An Illustrated Dictionary of Aviation Copyright © 2005 by The McGraw-Hill Companies, Inc. All rights reserved