decking
Also found in:
Dictionary
,
Thesaurus
,
Medical
,
Legal
,
Financial
,
Idioms
,
Wikipedia
.
decking
a wooden deck or platform, esp one in a garden for deckchairs, etc.
Decking
Thick floor boards or planks used as a structural flooring, usually for long spans between joists. Also, light-gauge sheets of metal, which are ribbed, fluted or stiffened for use in construction of concrete floors and roofs.
Decking
a structural component that is installed on the supporting parts of a building or structure (such as walls, crossbars, beams, or girders). It is the foundation for building floors and roofs, bridge roadways, and operating platforms for equipment in industrial shops. The types of decking most widely used in modern construction are reinforced-concrete (cast slabs or panels or precast coffered or corrugated slabs or panels) and metal (made of steel sheets). Wooden decking (planks or logs) is used less frequently. Decking made of corrugated steel or aluminum sheet is suitable as a roofing material for industrial buildings; the use of such decking reduces the weight of structural members and the labor required for installation.
decking
[

′dek·iŋ

]

(civil engineering)

Surface material on a deck.

(engineering)

Separating explosive charges containing primers with layers of inert material to prevent passage of concussion.

(mining engineering)

Changing tubs on a cage at both ends of a shaft.
decking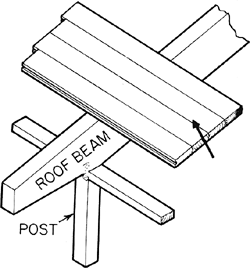 1.
The thick boards or planks used as structure flooring, usually for long spans between joists or for heavy service; also called
planking
.
2. Light-gauge sheets of metal which are ribbed, fluted, or otherwise integrally stiffened for use in constructing a floor or roof.
decking
The top surface of a deck, floor, aircraft floor, or fuselage.