abutment
(redirected from dental abutment)
Also found in:
Dictionary
,
Thesaurus
,
Medical
.
abutment
, abuttal

Architect Civil engineering a construction that takes the thrust of an arch or vault or supports the end of a bridge
abutment
[

ə′bət·mənt

]

(civil engineering)

A surface or mass provided to withstand thrust; for example, end supports of an arch or a bridge.

(mining engineering)

In a coal mine, the place where the natural ground material makes contact with the ends of an embankment.
abutment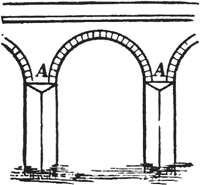 A masonry mass (or the like) which receives the thrust of an arch, vault, or strut.