departure
Also found in:
Dictionary
,
Thesaurus
,
Legal
,
Financial
,
Acronyms
,
Idioms
,
Wikipedia
.
departure
Nautical
a. the net distance travelled due east or west by a vessel
b. the latitude and longitude of the point from which a vessel calculates dead reckoning
Collins Discovery Encyclopedia, 1st edition © HarperCollins Publishers 2005
What does it mean when you dream about departure?
Breaking away from a situation or relationship, a way of doing things. Seeking independence by "leaving home."
The Dream Encyclopedia, Second Edition © 2009 Visible Ink Press®. All rights reserved.
departure
[

di′pär·chər

]

(meteorology)

The amount by which the value of a meteorological element differs from the normal value.

(navigation)

The distance between two meridians at any given parallel of latitude, expressed in linear units, usually nautical miles; the distance to the east or west made good by a craft in proceeding from one point to another.

The point at which reckoning of a voyage begins; usually established by bearings of prominent landmarks as the vessel clears a harbor and proceeds to sea; when a person establishes this point, he is said to take departure. Also known as point of departure.

Act of departing or leaving.

McGraw-Hill Dictionary of Scientific & Technical Terms, 6E, Copyright © 2003 by The McGraw-Hill Companies, Inc.
departure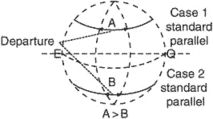 i
. The distance between two given meridians measured along a standard parallel and expressed in nautical miles. It is the east-west component of the rhumb-line distance between two points. The value of departure between two meridians decreases with increasing latitudes, and vice versa. Departure in nautical miles = change of longitude in minutes x cosine mean latitude.
ii
. The distance traveled in an east to west direction between two points.
iii
. Aircraft taking off from an airport under departure control.
iv
. Aeroelastic instability that may exist in roll, pitch, or yaw. Aircraft may break up during an aereoelastic departure. It is a situation in which there is an uncommanded increase in the angle of attack (α) and consequent loss of control. It is a form of aerodynamic departure as in a pitch-up.
v
. The action or event of an aircraft leaving a place, as in "5 departures, 2 arrivals."
An Illustrated Dictionary of Aviation Copyright © 2005 by The McGraw-Hill Companies, Inc. All rights reserved