DSP
(redirected from desmoplakin I)
Also found in:
Dictionary
,
Medical
.
DSP
(1) See digital service provider.

(2) (Digital Signal Processor) See DSP chip.

(3) (Digital Signal Processing) A category of techniques that analyze signals from sources such as sound, weather satellites and earthquake monitors. Signals are converted into digital data and analyzed using various algorithms such as Fast Fourier Transform.

Easier in Digital
Once a signal has been reduced to numbers, its components can be isolated, analyzed and rearranged more easily than in analog form. DSP is used in many fields, including biomedicine, sonar, radar, seismology, audio, speech and music processing, imaging and communications. It is also used to create the concert hall and surround sound effects in stereo and home theater equipment. See DSP chip.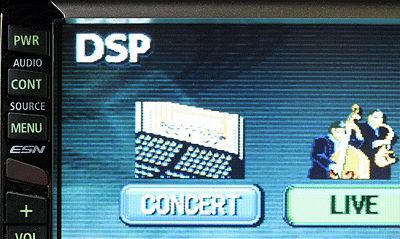 Sound Effects
This automobile head unit offers Concert, Live, Cathedral, Club and Theater sound effects. Here, the actual term "DSP" is used; however, "Staging," "Sound Effects" and "Signal Processing" are other names for generated audio effects.