diagonal buttress
diagonal buttress
A buttress that bisects the 270-degree angle at the outside corner of a building.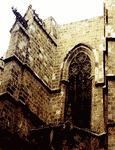 See also: Buttress

Illustrated Dictionary of Architecture Copyright © 2012, 2002, 1998 by The McGraw-Hill Companies, Inc. All rights reserved
diagonal buttress
One extending at 45° from the right-angle corner of two walls.
McGraw-Hill Dictionary of Architecture and Construction. Copyright © 2003 by McGraw-Hill Companies, Inc.