differential GPS
Also found in:
Wikipedia
.
differential GPS
[

'dif·ə¦ren·chəl ¦jē¦pē′es

]

(navigation)

A technique for improving the accuracy of the Global Positioning System (GPS) in which error corrections are transmitted to users based on measurements of GPS signals by one or more reference receivers situated at known locations. Abbreviated DGPS.
differential GPS (global positioning system)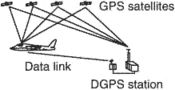 The system of establishing position by getting the fix from a constellation of navigational satellites, in which the errors caused by the atmosphere or the ionosphere and those induced by selective availability are corrected. The system has a much higher accuracy than the conventional GPS. It uses two receivers, a
rover at an unknown location (aircraft's GPS receiver), and a base station at a known fixed location. The base station computes corrections based on the differences between its actual and observed ranges to the tracked satellites and sends the correction to the rover receiver.