digital recorder
Also found in:
Dictionary
,
Thesaurus
.
digital recorder
[

′dij·əd·əl ri′kȯrd·ər

]

(computer science)

McGraw-Hill Dictionary of Scientific & Technical Terms, 6E, Copyright © 2003 by The McGraw-Hill Companies, Inc.
CD-R
(1) (Call Detail Reporting) See call accounting.

(2) (Common Data Rate) The standard 13.5 MHz sampling rate for 480i and 576i digital video systems. See ITU-R BT.601 and CIF.

(3) (Compact Disc-Recordable) A type of CD disc that can be recorded, but not erased. Introduced in 1988, a CD-R is used to back up and transfer data as well as master CD-ROMs. The discs can be written ("burned") and read by most CD/DVD drives. The phrase "burn a CD" really means "burn a CD-R."

Capacities
The most common CD-R formats hold 650MB (74 minutes) of data or 700MB (80 min.). Also available are 550MB (63 min.), 790MB (90 min.) and 870MB (99 min.), the latter two being non-standard. The higher capacities are achieved by reducing the distance between tracks (track pitch). To record a full 650MB disc takes only a couple minutes using 40x recorders. For speed ratings of drives, see CD-ROM drives.

Change the Reflectivity
The binary 0s and 1s in CDs and CD-ROMs are actual pits (or lack thereof called "lands") stamped into the media. CD-Rs create the equivalent of pits and lands by altering the reflectivity of a dye layer. Different dyes are used, including cyanine (green), pthalo-cyanine (yellow-gold) and metal-azo (blue). See CD-RW, multisession, disc-at-once, track-at-once, CD UDF and optical disc.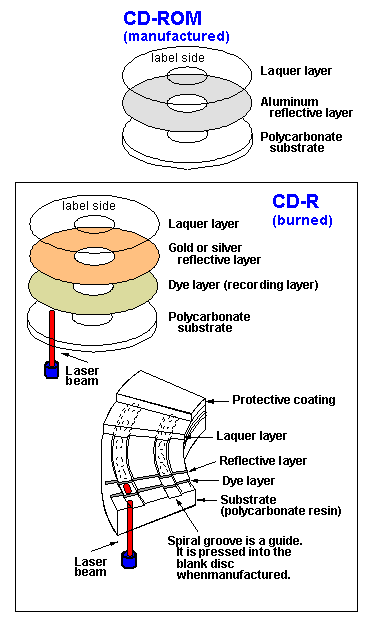 CD-R Layers
Fresh out of the box, a CD-R disc is entirely reflective, because the dye layer is transparent. In order to create the equivalent of a CD or CD-ROM pit, the laser deforms the dye, making it darker and less reflective. In contrast, CD and CD-ROM pits are molded into the plastic and covered by an aluminum reflective coating (for more details, see CD-ROM).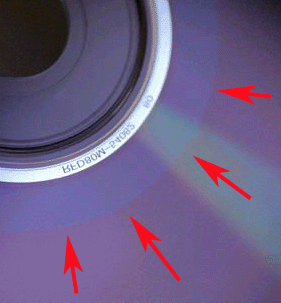 A Partially Burned Disc
Recording starts at the center and spirals outward. To tell if a CD-R was burned, look for the slight change in reflectivity on the recording side. In this example, only 6% of the disc has been written, and the arrows point to the end of the recorded area (look carefully).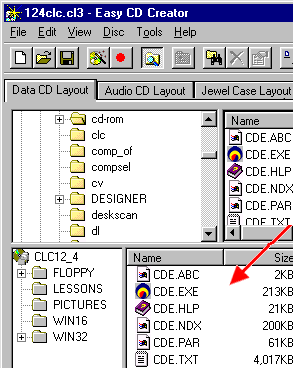 Burning a CD-R
To "burn" a CD-R, the files are dragged and dropped into a recording window as in this Easy CD Creator example. Most software supports audio and data CDs and may also print the cover and inside jacket of the jewel case.
---
DVR
(1) (Digital Video Recorder) A device that records video from up to a dozen or more surveillance cameras onto a hard disk. The frame rate can be switched from real time to time lapse in order to save storage space. Digital recorders are more flexible than earlier analog VHS tape systems, and the video can be easily transmitted over a computer network. See CCTV.

(2) (Digital Video Recorder) Also known as a "personal video recorder" (PVR) or "hard disk recorder," a DVR is a consumer device that allows the viewer to pause and rewind any broadcast, cable or satellite TV program as well as record and play back selected programs (see live pause). An order of magnitude more flexible than earlier videocassette tape recorders (VCRs), an entire season of programs from one or more favorite series can be recorded.

DVRs may be built into the set-top box or replace the box using plug-in modules (see CableCARD). They store incoming digital TV signals on the hard disk as well as digitize analog TV into the MPEG-2 format. The video may be compressed to maximize storage space.

Part of the Service or Stand-Alone
The DVR periodically downloads channel program guide updates as well as software updates for the unit itself. When the DVR is integrated into the cable or satellite set-top box, the downloads ride the same medium as the TV service. When the DVR is stand-alone, the downloads come in via the home network.

Before the Turn of the Century
DVRs first came on the market in 1999 with products from ReplayTV and TiVo (www.tivo.com). They quickly made the VCR obsolete for timeshifting TV programs, and Tivo became the DVR leader. ReplayTV was later acquired by SONICblue, D&M Holdings and eventually the DirecTV satellite TV service (www.directv.com). See cloud DVR, multi-room DVR sharing, live pause, DVD recorder and networked DVR. Contrast with NVR.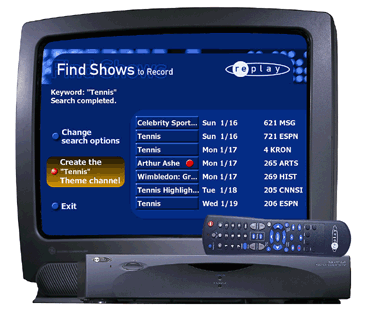 ReplayTV
This earlier DVR from ReplayTV appears in front of the Find Shows screen, which enables a viewer to search for programming throughout the week by keyword. (Image courtesy of ReplayTV.)
Copyright © 1981-2019 by The Computer Language Company Inc. All Rights reserved. THIS DEFINITION IS FOR PERSONAL USE ONLY. All other reproduction is strictly prohibited without permission from the publisher.