direction
Also found in:
Dictionary
,
Thesaurus
,
Medical
,
Legal
,
Financial
,
Acronyms
,
Idioms
,
Wikipedia
.
direction
1. the work of a stage or film director
2. the course along which a ship, aircraft, etc., is travelling, expressed as the angle between true or magnetic north and an imaginary line through the main fore-and-aft axis of the vessel
3. Music the process of conducting an orchestra, choir, etc.
4. Music an instruction in the form of a word or symbol heading or occurring in the body of a passage, movement, or piece to indicate tempo, dynamics, mood, etc.
5.
Maths
a. (of an angle) being any one of the three angles that a line in space makes with the three positive directions of the coordinate axes. Usually given as α, β, and γ with respect to the x-, y-, and z-axes
b. (of a cosine) being the cosine of any of the direction angles
Collins Discovery Encyclopedia, 1st edition © HarperCollins Publishers 2005
direction
[

də′rek·shən

]

(engineering)

The position of one point in space relative to another without reference to the distance between them; may be either three-dimensional or two-dimensional, the horizontal being the usual plane of the latter; usually indicated in terms of its angular distance from a reference direction.

(geology)

McGraw-Hill Dictionary of Scientific & Technical Terms, 6E, Copyright © 2003 by The McGraw-Hill Companies, Inc.
direction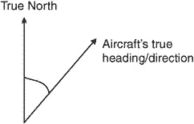 The place or point toward which the aircraft is moving or facing. Direction may be expressed as true, magnetic, or compass headings or paths. Various terms used to describe direction are
azimuth, bearing, course, heading
, and
track. Azimuth
and
bearing
as used in air navigation are measured from the north in a clock-wise direction from 001° to 360°.
Course
is the path to be flown by aircraft, and
track
is the actual path flown over the ground.
An Illustrated Dictionary of Aviation Copyright © 2005 by The McGraw-Hill Companies, Inc. All rights reserved