Discontinuity
Also found in:
Dictionary
,
Thesaurus
,
Medical
,
Wikipedia
.
discontinuity
[

dis'känt·ən′ü·əd·ē

]

(electromagnetism)

An abrupt change in the shape of a waveguide. Also known as waveguide discontinuity.

(geology)

An interruption in sedimentation.

A surface that separates unrelated groups of rocks.

(geophysics)

A boundary at which the velocity of seismic waves changes abruptly.

(mathematics)

A point at which a function is not continuous.

(metallurgy)

The place where the structural nature of a weldment is interfered with because of the materials involved or where the mechanical, physical, or metallurgical aspects are not homogeneous.

(physics)

A break in the continuity of a medium or material at which a reflection of wave energy can occur.

McGraw-Hill Dictionary of Scientific & Technical Terms, 6E, Copyright © 2003 by The McGraw-Hill Companies, Inc.
The following article is from The Great Soviet Encyclopedia (1979). It might be outdated or ideologically biased.
Discontinuity
(or point of discontinuity), a value of the argument at which the continuity of a function is violated. In the simplest case, continuity is violated at some point a in the sense that the right and left limits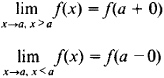 exist, but at least one of them differs from f(a). When this occurs, a is called a jump discontinuity of f, or the discontinuity of the first kind.
If f(a + 0) = f(a – 0), the discontinuity is said to be removable, since f(x) becomes continuous at a if we set f(a) = f(a + 0) = f(a – 0). For example, the point a = 0 is a removable discontinuity of the function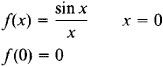 since f is continuous at 0, if we set f(0) = 1. If, however, the jump δ = f(a + 0) – f(a – 0) of the function f(x) at the point is nonzero, then a is a discontinuity for any definition of the value of f(a). An example of such a discontinuity is the point a = 0 for the function f(x)= arc tan 1/x. In this case, the function may not be defined at the point a. The jump discontinuity is called regular if the condition f(a) = ½[f(a – 0) + f(a + 0)] is satisfied. If either of the one-side limits does not exist, then the point a is called the discontinuity point of the second kind. Examples are the point a = 2 for the function f(x) = 1/(x – 2) and the point a = 0 for f(x) = sin 1/x.
The Great Soviet Encyclopedia, 3rd Edition (1970-1979). © 2010 The Gale Group, Inc. All rights reserved.