Dispersity
Also found in:
Medical
,
Wikipedia
.
The following article is from The Great Soviet Encyclopedia (1979). It might be outdated or ideologically biased.
Dispersity
a characteristic of particle dimensions in disperse systems; it is inversely proportional to the average particle diameter and is determined by the specific surface—that is, the ratio of the total particle surface to the unit volume (or sometimes mass) of the dispersed phase. The specific surface is the average dispersity index. A more complete representation of dispersity is provided by the volume or mass distribution curve for the dispersed phase according to particle dimensions (see Figure 1). With increasing poly dispersity of the system—that is, with increasing difference in particle sizes—the maximum on the distribution curve decreases and becomes broader, but the area bounded by the curve and the x-axis remains constant. In the rare case of a monodisperse system, when the dimensions of the particles are almost identical, the curve has a sharp peak with a narrow base. Systems with two or more maximums on the distribution curve exist. In the case of finely porous materials, such as adsorbents and catalysts, the concept of dispersity is replaced by the equivalent concept of porosity, which is the characteristic of the channel or pore size in the materials.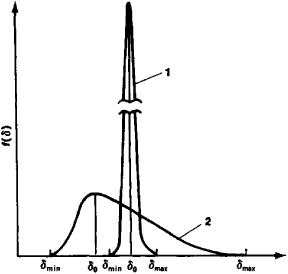 In the chemistry of macromolecular compounds, the size characteristic of the linear or branched (chain) polymeric molecules, which is determined by the molecular weight, is often called the dispersity. The poly dispersity of polymers may be expressed by the distribution function of the molecules according to their molecular weights (so-called molecular-weight distribution). This function is graphically represented by the curves shown in Figure 1. The molecular weights are plotted along the x-axis, and the proportions of polymeric fractions, with the corresponding molecular weights, are plotted along the y-axis.
Dispersity is an important technological index in the production and use of pigments, various plastic fillers, mineral binders, fertilizers, pesticides, pharmaceuticals, and many other powdered and fine-grained products. It is determined by the methods of dispersion analysis.
The Great Soviet Encyclopedia, 3rd Edition (1970-1979). © 2010 The Gale Group, Inc. All rights reserved.