dithering
Also found in:
Dictionary
,
Thesaurus
,
Medical
,
Financial
,
Idioms
,
Wikipedia
.
dithering
(data, algorithm)

A technique used in quantisation processes such as

graphics

and

audio

to reduce or remove the correlation between noise and signal.

Dithering is used in

computer graphics

to create additional colors and shades from an existing

palette

by interspersing pixels of different colours. On a

monochrome

display, areas of grey are created by varying the proportion of black and white pixels. In colour displays and printers, colours and textures are created by varying the proportions of existing colours. The different colours can either be distributed randomly or regularly. The higher the

resolution

of the display, the smoother the dithered colour will appear to the eye.

Dithering doesn't reduce resolution. There are three types: regular dithering which uses a very regular predefined pattern; random dither where the pattern is a random noise; and pseudo random dither which uses a very large, very regular, predefined pattern.

Dithering is used to create patterns for use as backgrounds, fills and shading, as well as for creating halftones for printing. When used for printing is it very sensitive to paper properties. Dithering can be combined with

rasterising

. It is not related to

anti-aliasing

.

This article is provided by FOLDOC - Free Online Dictionary of Computing (foldoc.org)
dithering
Causing a displayed or printed image to appear more photographic by inserting shades of gray or color. Dithering simulates more colors and shades in a palette than actually exist.

While dithering cannot produce the identical results as having sufficient levels of gray or colors in the graphics display system (the color depth), it can make shaded drawings and photographs appear extremely realistic. See color depth, 24-bit color and halftone.

Dithering is also widely used to smooth curves and diagonals (see anti-aliasing).




Dithering a Color Image
An infinite palette of colors can be created by using varying shades in adjacent pixels. The right side is a magnification of the left.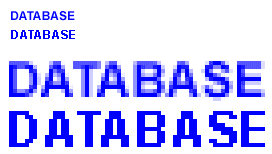 Text Is Also Dithered
At the top of this example, the dithered word DATABASE is softer than the undithered word below. The magnified view shows the lighter blue pixels filling in the curves. Dithering on curves and diagonals is called "anti-aliasing."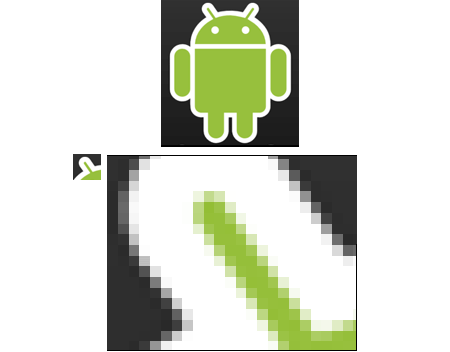 More Shades Than You Think
At a quick glance, this Android logo appears to be solid green, white and black. However, the magnified view of one of the antennas shows otherwise. See GIF.
Copyright © 1981-2019 by The Computer Language Company Inc. All Rights reserved. THIS DEFINITION IS FOR PERSONAL USE ONLY. All other reproduction is strictly prohibited without permission from the publisher.